The Roots and Blues Hour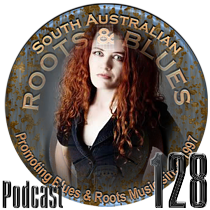 Press Play
Podcast 128 from SA Roots and Blues
ARTIST | ALBUM | TRACK
1 Roma Di Luna -Then The Morning Came - Before I Die.
2 Kopecky Family Band - The Disaster - Red Devil.
3 Heather Stewart Trio - Get your fingers off it - Get your fingers off it.
4 The Wood Brothers - Smoke ring halo - Pay Attention.
5 Jordan Renye - How the dead live -The Dead.
6 James Vincent McMorrow - Early in the morning - Down the burning rope.
7 Diane Birch - Bible Belt - Don't Wait Up.
8 Adam Haworth Stephens - We live on cliffs - Elderwoods.
9 Holmes - Voices and Vices - True Lies.
10 Annie Keating - Water Tower View - A Little Too Long.
11 The Broadside Push - Grace on the banks - where the tree tops are tall.
12 The Famous - Come Home To Me - Moving On.
13 Booze Monkey - 4th Street - Changing lanes.
14 Lynn Miles - Fall for beauty - Something beautiful.
15 Crooked Still - Some Strange Country - I'm Troubled.
16 Grace Potter and The Nocturnals - This is somewhere - Stop the Bus.
Audio Stream Quality: MP3.
Bitrate:56kb/s. Sample Rate: 22050Hz. Channels: Stereo.

Thanks to the musicians, promoters and distributors
who have allowed us to present their music.
Subscribe to SA Roots& Blues
(It's FREE) and obtain your 'user name' and 'password' to the 'Subscribers' page and download the latest quality MP3 (MP3PRO VBR of 95-150 kbps)podcasts to your Player!
'The Roots and Blues Hour' once a month presents a rich mature selection from the genres of roots, alt. country, blues, folk and indie alt. rock. Each podcast highlights new and recent releases from these genres. Podcast duration is about an hour.

'SA Roots and Blues' is a non profit organisation. Our aim is to promote roots and blues music to an ever increasing patronage.