The Roots and Blues Hour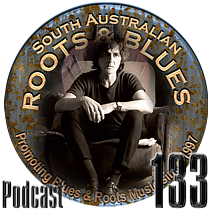 Press Play
Podcast 133 from SA Roots and Blues
ARTIST | ALBUM | TRACK
1 The Drones and Maurice Frawley* - The songs of Maurice Frawley - Long Gone Whistle.
2 Cowboy Junkies - Demons - Wrong Piano.
3 Lloyd Cole - Broken Record - That's Alright
4 Robyn Ludwick - Out of the blues - Out Of These Blues.
5 Eamonn Dowd and The Racketeers - Silver and Dust - Dont Let Me Fall.
6 Annie Fitzgerald - In Good Time - Little Girl.
7 Jeffrey Foucault - Cold Satellite - VoicesTalking.
8 Over the Rhine - The long surrender - The Laugh Of Recognition.
9 Dan Reeder - This new century - James Brown is dead and gone.
10 Miranda Dobson - Change a thing - Too Late.
11 Doug Burr - O Ye Devastator - I Got This Fever.
12 Amy Coleman - Goodbye New York - Goodbye New York.
13 Al DeLoner - Itchy and the Girl Dancing - San Francisco.
14 Cowboy Junkies - Demons - Ladle.
Audio Stream Quality: MP3.
Bitrate:56kb/s. Sample Rate: 22050Hz. Channels: Stereo.

Thanks to the musicians, promoters and distributors
who have allowed us to present their music.
Subscribe to SA Roots& Blues
(It's FREE) and obtain your 'user name' and 'password' to the 'Subscribers' page and download the latest quality MP3 (MP3PRO VBR of 95-150 kbps)podcasts to your Player!
'The Roots and Blues Hour' once a month presents a rich mature selection from the genres of roots, alt. country, blues, folk and indie alt. rock. Each podcast highlights new and recent releases from these genres. Podcast duration is about an hour.

'SA Roots and Blues' is a non profit organisation. Our aim is to promote roots and blues music to an ever increasing patronage.