The Roots and Blues Hour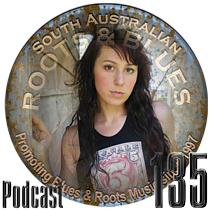 Press Play
Podcast 135 from SA Roots and Blues
ARTIST | ALBUM | TRACK
1 Abbie Cardwell* - The Bare Bones Session - 52 Pick Up.
2 The Bridge - National Bohemian - Sanctuary.
3 The Audreys - Sometimes The Stars - Sometimes The Stars.
4 Shaden Garett and The 12 Midnights - Shaden Garett and The 12 Midnights - Black Car.
5 Kasey Chambers - Little Bird - Devil On Your Back.
6 Slim Cessna's Autoclub - Buried behind the barn - Jackson.
7 Souther Still - Great Wild Street - The blood that flows
8 Charlie Parr & The Black Twig Pickers - Glory In The Meeting House - Death's Black Train.
09 Michael on Fire - Always Yes - Violet Skies.
10 Jude Johnstone - Quiet Girl- Quiet Girl.
11 David Philips - Heal Yourself Alone - Right Back.
12 Jeffrey Foucault - Cold Satellite - Call off the Dogs.
13 Lynn Miles - Something Beautiful - Something Beautiful.
14 John Hill - Across the Field of Dreams.
15 Kim Beggs - Blue Bones - Ill be your baby tonight.
16 Lloyd Cole - Small Ensemble Slaughterhouse Studios Session - Perfect Skin.
Audio Stream Quality: MP3.
Bitrate:56kb/s. Sample Rate: 22050Hz. Channels: Stereo.

Thanks to the musicians, promoters and distributors
who have allowed us to present their music.
Subscribe to SA Roots& Blues
(It's FREE) and obtain your 'user name' and 'password' to the 'Subscribers' page and download the latest quality MP3 (MP3PRO VBR of 95-150 kbps)podcasts to your Player!
'The Roots and Blues Hour' once a month presents a rich mature selection from the genres of roots, alt. country, blues, folk and indie alt. rock. Each podcast highlights new and recent releases from these genres. Podcast duration is about an hour.

'SA Roots and Blues' is a non profit organisation. Our aim is to promote roots and blues music to an ever increasing patronage.