The Roots and Blues Hour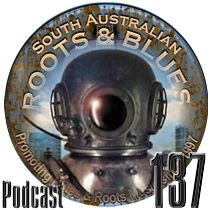 Press Play
Podcast 137 from SA Roots and Blues
ARTIST | ALBUM | TRACK
1 Charles Jenkins and The Zhivagos - Walk this ocean - Walk this ocean.
2 Jason Isbell and The 400 Unit - Here we rest - Go It Alone.
3 Robert Plant - Band Of Joy - House Of Cards.
4 Buddy Miller - The Majestic Silver Strings - No Good Lover.
5 Lucinda Williams - Blessed - Buttercup.
6 Imelda May - Mayhem - Proud and Humble
7 Miranda Dodson - Change a thing - Sitting In Limbo.
8 Natalia Zukerman - Gas Station Roses - Gas Station Roses.
9 Katie Moore - Montebello - Something on your mind.
10 Holly Throsby - Team - Hi You Reckless Darling.
11 Gill Landry - Piety and Desire - Strange & Cold.
12 Drive-By Truckers - The Big To-Do - Santa Fe.
13 Sarah Lee Guthrie & Johnny Irion - Bright Examples - Bright Examples.
14 The Band of Heathens - Top Hat Crown & The Clapmaster's Son - Medicine Man.
15 Charles Jenkins and The Zhivagos - Walk this ocean - Only a secret.
Audio Stream Quality: MP3.
Bitrate:56kb/s. Sample Rate: 22050Hz. Channels: Stereo.

Thanks to the musicians, promoters and distributors
who have allowed us to present their music.
Subscribe to SA Roots& Blues
(It's FREE) and obtain your 'user name' and 'password' to the 'Subscribers' page and download the latest quality MP3 (MP3PRO VBR of 95-150 kbps)podcasts to your Player!
'The Roots and Blues Hour' once a month presents a rich mature selection from the genres of roots, alt. country, blues, folk and indie alt. rock. Each podcast highlights new and recent releases from these genres. Podcast duration is about an hour.

'SA Roots and Blues' is a non profit organisation. Our aim is to promote roots and blues music to an ever increasing patronage.