The Roots and Blues Hour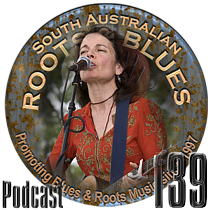 Press Play
Podcast 139 from SA Roots and Blues
ARTIST | ALBUM | TRACK
1 Audrey Auld - Come Find Me - Orphan Song.
2 Tara Nevins - Wood and Stone - Tennessee River.
3 Brooke Annibale - Silence worth breaking - Under Streetlights.
4 Heidi Spencer And The Rare Birds - Under Streetlight Glow - Red Sky.
5 The Civil Wars - Barton Hollow - Barton Hollow.
6 Drew Holcomb & The Neighbors - Chasing Someday - Your Love.
7 Moondoggies - Tidelands - Tidelands.
8 Holly Golightly & The Brokeoffs - No Help Coming - No Help Coming.
9 Middle Brother - Middle Brother - Blue Eyes.
10 Diana Jones - High Atmosphere - Funeral Singer.
11 Alena Diane - Alena and The Wild Devine - Long Way Down.
12 Tara Nevins - Wood and Stone - Wood and Stone.
13 The Unthanks - Last - No One Knows I'm Gone.
Audio Stream Quality: MP3.
Bitrate:56kb/s. Sample Rate: 22050Hz. Channels: Stereo.

Thanks to the musicians, promoters and distributors
who have allowed us to present their music.
Subscribe to SA Roots& Blues
(It's FREE) and obtain your 'user name' and 'password' to the 'Subscribers' page and download the latest quality MP3 (MP3PRO VBR of 95-150 kbps)podcasts to your Player!
'The Roots and Blues Hour' once a month presents a rich mature selection from the genres of roots, alt. country, blues, folk and indie alt. rock. Each podcast highlights new and recent releases from these genres. Podcast duration is about an hour.

'SA Roots and Blues' is a non profit organisation. Our aim is to promote roots and blues music to an ever increasing patronage.