BLUES TIME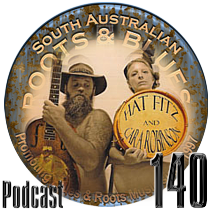 Press Play
Podcast 140 from SA Roots and Blues
ARTIST | ALBUM | TRACK
1 Hat Fitz & Cara Robinson - Beauty & the Beast - Wont Be Too Late.
2 Stormcellar - Carl's Chair - Hollow Tree.
3 Paulie Bignell - Red Eye Flight - Red Eye Flight.
4 Slim Pickens - Happy Trails - Vigilante Man.
5 Imelda May - Mayhem - Psycho.
6 Holly Golightly & The Brokeoffs - No Help Coming - Get Out My House.
7 The Black Lillies - 100 Mile of Wreckage - Nobody's Business.
8 Rory Block - Shake em on down - The Breadline.
9 The Junior League Band - Jelly Roll - Too Far.
10 Daryl Roberts - Wall of Stone - Wishing Cup.
11 Leeroy Stagger - Everything is real - Everything is real.
12 Tommy Lee Cook - Outside Looking In - Grits And Groceries.
13 Trampled Underfoot - Wrong side of the blues - Bad Woman.
14 Lloyd Jones - Highway Bound - Broke Down Engine.
15 Grant Peebles - Okra and Ecclesiastes - Lethal Injection Blues.
16 Leeann Atherton - Woman and Man - Daily Blues.
Audio Stream Quality: MP3.
Bitrate:56kb/s. Sample Rate: 22050Hz. Channels: Stereo.

Thanks to the musicians, promoters and distributors
who have allowed us to present their music.
Subscribe to SA Roots& Blues
(It's FREE) and obtain your 'user name' and 'password' to the 'Subscribers' page and download the latest quality MP3 (MP3PRO VBR of 95-150 kbps)podcasts to your Player!
'Blues Time' comes your way once a month. It draws its play list from the genres of acoustic and electric blues. Each podcast highlights new and recent releases. Duration is about an hour.

'SA Roots and Blues' is a non profit organisation. Our aim is to promote roots and blues music to an ever increasing patronage.