The Roots and Blues Hour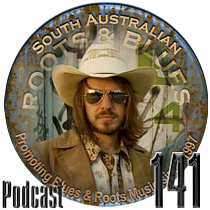 Press Play
Podcast 141 from SA Roots and Blues
ARTIST | ALBUM | TRACK
1 Chris Altmann* - Que Paso - Bad News.
2 Chris Bathgate - Salt Year - In The City.
3 Ha Ha Tonka - Death of a decade - Lonely fortunes.
4 Thea Gilmore - John Wesley Harding - As I Went Out One Morning.
5 Jeffrey Foucault - Horse Latitudes - Pretty Girl In A Small Town.
6 Oh Susanna - Soon The Birds - By Rope.
7 Greg Brown - Freak Flag - Where Are You Going When You're Gone.
8 The Waifs - Temptation - I learn the hard way.
9 Diana Jones - High Atmosphere - High Atmosphere.
10 Edoardo Santoni - Towing The Line - Lighthouse.
11 Eilen Jewell - Queen of The Minor Key - I Remember You.
12 Eliza Gilkyson - Roses at the End of Time - Looking For A Place.
13 Brooke Annibale - Silence worth breaking - Empathy.
14 Devon Sproule - I Love You, Go Easy - The Warning Bell.
15 Steve Earl - I'll never get out of this world alive - Heaven Or Hell.
16 The Jay Hoad Band - Warmth In The White - Rat Race.
17 Slim Pickens and Doctor Baz - Next Time - Cajun Cowboy Blues.
18 The Secret Sisters - The Secret Sisters - Why Baby Why.
19 Stormcellar - Carl's Chair - Southern Belles.
Audio Stream Quality: MP3.
Bitrate:56kb/s. Sample Rate: 22050Hz. Channels: Stereo.

Thanks to the musicians, promoters and distributors
who have allowed us to present their music.
Subscribe to SA Roots& Blues
(It's FREE) and obtain your 'user name' and 'password' to the 'Subscribers' page and download the latest quality MP3 (MP3PRO VBR of 95-150 kbps)podcasts to your Player!
'The Roots and Blues Hour' once a month presents a rich mature selection from the genres of roots, alt. country, blues, folk and indie alt. rock. Each podcast highlights new and recent releases from these genres. Podcast duration is about an hour.

'SA Roots and Blues' is a non profit organisation. Our aim is to promote roots and blues music to an ever increasing patronage.