BLUES TIME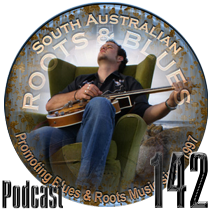 Press Play
Podcast 142 from SA Roots and Blues
ARTIST | ALBUM | TRACK
1 Pete Cornelius - Pete Cornelius - Tumbleweed.
2 RB Stone - Lonesome Travelers Blues - Mississippi Woman.
3 Marcia Ball - Roadside Attractions - Roadside Attractions.
4 Paul Oscher - Bet On The Blues - Robin Lee.
5 Hadden Sayers - Hard Dollar - Flat Black Automobile.
6 Wicked Grin - Down To The Corner - Down To The Corner.
7 Hazmat Modine - Cicada - I've Been Lonely For So Long.
8 Gal Holiday - Set Two - Let The Teardrops Fall.
9 Antsy McClain - Heroes last forever - Summertime Blues.
10 Paulie Bignell - Red Eye Flight - Not if but when.
11 Eric Bibb with Staffan Astner - Troubadour Live - New Home.
12 Mavis Staples - You Are Not Alone - Don't Knock.
13 John Moreland - Earthbound Blues - 100 Pages of Lies.
14 Richie Pavledis - Rocky Blues Vol4 - Holly.
15 Tommy Lee Cook - Outside Looking In - Arkansas Dirtweed.
16 Terry Quiett Band - Just My Luck - Judgment Day.
17 Hot Tuna - Steady As She Goes - Goodbye to the Blues.

Audio Stream Quality: MP3.
Bitrate:56kb/s. Sample Rate: 22050Hz. Channels: Stereo.

Thanks to the musicians, promoters and distributors
who have allowed us to present their music.
Subscribe to SA Roots& Blues
(It's FREE) and obtain your 'user name' and 'password' to the 'Subscribers' page and download the latest quality MP3 (MP3PRO VBR of 95-150 kbps)podcasts to your Player!
'Blues Time' comes your way once a month. It draws its play list from the genres of acoustic and electric blues. Each podcast highlights new and recent releases. Duration is about an hour.

'SA Roots and Blues' is a non profit organisation. Our aim is to promote roots and blues music to an ever increasing patronage.