The Roots and Blues Hour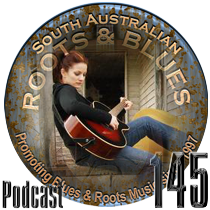 Press Play
Podcast 145 from SA Roots and Blues
ARTIST | ALBUM | TRACK
1 Renee Wahl - Cumberland Moonshine - Around.
2 Nick and Liesl - Feather - Love and affection.
3 Blackie & the Rodeo Kings - Kings & Queens - If I Can't Have You.
4 Jude Davison - Outskirts of Eden - Medicine show.
5 Dave Stewart - The Blackbird Diaries - So long ago.
6 Cody Canada and The Departed - This is Indian land - Ballad of Rosalie.
7 Leslie Stevens And The Badgers - Roomful Of Smoke - Roomful Of Smoke.
8 American Graveyard - Hallelujahland - Hallelujahland.
9 Eliza Carthy - Neptune - Blood On My Boots.
10 Leeroy Stagger - Little Victories - Everyone's On Drugs.
11 Red Molly - Love and other tradgedies - Honey on my grave.
12 Thomm Jutz - The 1861 Project - I Have.
14 Catherine Traicos - The Love Inside - Let you go.
15 Devon Sproule - I Love You, Go Easy - Now's the time.
16 Emily Davis - Undone - Conjure Woman Blues.
Audio Stream Quality: MP3.
Bitrate:56kb/s. Sample Rate: 22050Hz. Channels: Stereo.

Thanks to the musicians, promoters and distributors
who have allowed us to present their music.
Subscribe to SA Roots& Blues
(It's FREE) and obtain your 'user name' and 'password' to the 'Subscribers' page and download the latest quality MP3 (MP3PRO VBR of 95-150 kbps)podcasts to your Player!
'The Roots and Blues Hour' once a month presents a rich mature selection from the genres of roots, alt. country, blues, folk and indie alt. rock. Each podcast highlights new and recent releases from these genres. Podcast duration is about an hour.

'SA Roots and Blues' is a non profit organisation. Our aim is to promote roots and blues music to an ever increasing patronage.