BLUES TIME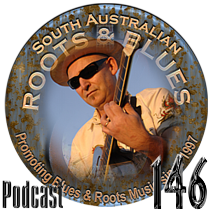 Press Play
Podcast 146 from SA Roots and Blues
ARTIST | ALBUM | TRACK
1 Backsliders - Starvation Box - Flanelette Border.
2 Gus McKay - Roadrunner Blues - Keep on Driving.
3 Heather Stewart - Get Your Fingers Off It - Wayward Woman.
4 Seasick Steve - You cat teach an old dog new tricks - Back in the doghouse.
5 Charlie Parr - Cheap Wine - 1922 Blues.
6 Tab Benoit - Medicine – Medicine.
7 Ray Manzarack and Roy Rogers - Translucent Blues - Blues In My Shoes.
8 Bill Bourne and The Free Radio Band - Bluesland - Deep Dark Woods.
9 Hazmat Modine - Cicada - Mocking Bird.
10 Suzie Vinnick - Me 'n' Mabel - Never Been To Spain.
11 Hat Fitz & Cara Robinson - Beauty & the Beast - Hard Times.
12 Doc Span Blues - Live in Australia - Whose Been Talkin'.
13 David Olney - Film Noir - The Blues Don't Care.
14 Ian Siegal and the Youngest Sons - Skinny - Moonshine Minnie.
15 Eric Lidell - Cazadero - Head High And Peelin'.
16 Harry Manx and Kevin Breit - Strictly Whatever - Mr Lucky.
17 Susan Wylde - In The Light - One Real Man.
18 Trampled Underfoot - Wrong side of the blues - Get It Straight.

Audio Stream Quality: MP3.
Bitrate:56kb/s. Sample Rate: 22050Hz. Channels: Stereo.

Thanks to the musicians, promoters and distributors
who have allowed us to present their music.
Subscribe to SA Roots& Blues
(It's FREE) and obtain your 'user name' and 'password' to the 'Subscribers' page and download the latest quality MP3 (MP3PRO VBR of 95-150 kbps)podcasts to your Player!
'Blues Time' comes your way once a month. It draws its play list from the genres of acoustic and electric blues. Each podcast highlights new and recent releases. Duration is about an hour.

'SA Roots and Blues' is a non profit organisation. Our aim is to promote roots and blues music to an ever increasing patronage.