BLUES TIME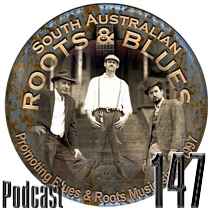 Press Play
Podcast 147 from SA Roots and Blues
ARTIST | ALBUM | TRACK
1 Trent Romens - Aware - Material Blues.
2 Cal Williams Jr - King Billy - Old Jim Crow.
3 The Backsliders - Starvation Box - Angels Lie.
4 Damn Fine Gentlemen - Damn Fine Gentlemen - Oh My My.
5 Mickey Thomas - Marauder - Gimme Shelter.
6 Jules Boult - Live Carnivale - One Scotch One Bourbon One Beer.
7 Brick Fields - Gospel Blue - On The Vine.
8 D'Mar and Gill - Real Good Friend - Running wild blues.
9 Rita Sciarelli - Music From The Big House - These Four Walls.
10 Dicky James and the Blue Flames - Hard Rain - Hard Rain.
11 Coldsnap - Live at The Cornish Arms Hotel - Shotgun.
12 Geoff Achison - Live at the Burrinja - Careful What You Wish For.
13 Eric Lidell - Cazadero - Bow Wow.
14 Tracy Nelson - Victim of the Blues - Lead The Horse To Water.
15 Kris Pohlmann Band - New Resolution - Feel the same.
16 Fred James and Mary Ann Brandon - We Belong Together - Wrong Train, Right Track.
17 The Black Lillies - 100 Mile of Wreckage - Peach Pickin'.
18 Honeyboy Edwards - Lay My Burden Down.
Audio Stream Quality: MP3.
Bitrate:56kb/s. Sample Rate: 22050Hz. Channels: Stereo.

Thanks to the musicians, promoters and distributors
who have allowed us to present their music.
Subscribe to SA Roots& Blues
(It's FREE) and obtain your 'user name' and 'password' to the 'Subscribers' page and download the latest quality MP3 (MP3PRO VBR of 95-150 kbps)podcasts to your Player!
'Blues Time' comes your way once a month. It draws its play list from the genres of acoustic and electric blues. Each podcast highlights new and recent releases. Duration is about an hour.

'SA Roots and Blues' is a non profit organisation. Our aim is to promote roots and blues music to an ever increasing patronage.