The Roots and Blues Hour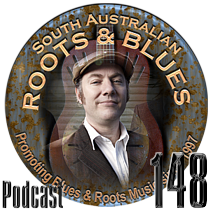 Press Play
Podcast 148
from
SA Roots and Blues
ARTIST | ALBUM | TRACK
1 Jeff Lang* - Carried In Mind - Towards Love.
2 Ernie Hendrickson - Walking with angels - Not Much Time.
3 Jason Isbell and The 400 Unit - Here we rest - Go It Alone.
4 Star Anna and The Laughing Dogs - Alone in this together - Alone In This Together.
5 Rita Hosking - Burn - Crash and burn.
6 Megafaun - Megafaun - Resurrection.
7 Pieta Brown - Mercury - Be With You.
8 Tin Cup Gypsy - Calico - Chase The Sun.
9 Lauren Sheehan - Rose city ramble - Honey baby blues.
10 Kurt Vile - Smoke ring for my halo - Puppet to the Man.
11 Jenny Dee and The Deelinquents - Keeping time - Let Me Go.
12 Laura Jean - A Fool Who'll - All Along.
13 May McDonough and Co - Spilt Milk - Mama, Drain the Bathtub.
14 Kara Suzanne - Parlor Walls - Parlor Walls.
15 D Charles Speer and The Helix - Leaving The Commonwealth - Le Grand Cochon.
16 Thea Gilmore - Murphy's heart - Teach Me To Be Bad.
Audio Stream Quality: MP3.
Bitrate:56kb/s. Sample Rate: 22050Hz. Channels: Stereo.

Thanks to the musicians, promoters and distributors
who have allowed us to present their music.
Subscribe to SA Roots& Blues
(It's FREE) and obtain your 'user name' and 'password' to the 'Subscribers' page and download the latest quality MP3 (MP3PRO VBR of 95-150 kbps)podcasts to your Player!
'The Roots and Blues Hour' once a month presents a rich mature selection from the genres of roots, alt. country, blues, folk and indie alt. rock. Each podcast highlights new and recent releases from these genres. Podcast duration is about an hour.

'SA Roots and Blues' is a non profit organisation. Our aim is to promote roots and blues music to an ever increasing patronage.