BLUES TIME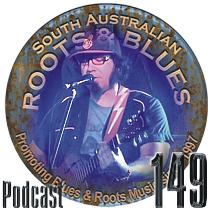 Press Play
Podcast 149 from SA Roots and Blues
ARTIST | ALBUM | TRACK
1 Cal Williams Jr - King Billy - Brownsville.
2 Rory Block - Shake 'Em On Down A Tribute To Mississippi Fred McDowell - Whats The Matter Now.
3 Mary Flower - Misery Loves Company - Hard Day Blues.
4 The Reverend Peyton's Big Damn Band - Peyton on Patton - Elder Greene Blues.
5 The Duke Robillard Band - Low Down and Tore Up - Quicksand.
6 Blind Willy - Willing to Crawl - Sweat.
7 Beth Hart and Joe Bonamassa - Don't Explain - Sinners Prayer
8 Sultans of Slide - Lightning Strikes - Drive all Night.
9 John Hiatt - Dirty Jeans and Mudslide Hymns - Detroit Made.
10 Marti Brom - Not for nothing - Finders Keepers.
11 Michael Powers - Revolutionary Boogie - Bleeker Street Strut.
12 Kris Pohlmann Band - New Resolution - Got to be the blues.
13 Maria Muldaur - Steady Love - Why are people like that.
14 Girls With Guitars - Girls With Guitars - We Aint Gonna Get Out Alive.
15 Tedeschi Trucks Band - Revelator - Come see about me.
16 Lightnin Malcolm - Renegade - My Lyin.
17 Hot Tuna - Steady as she goes - Goodbye to the Blues.
Audio Stream Quality: MP3.
Bitrate:56kb/s. Sample Rate: 22050Hz. Channels: Stereo.

Thanks to the musicians, promoters and distributors
who have allowed us to present their music.
Subscribe to SA Roots& Blues
(It's FREE) and obtain your 'user name' and 'password' to the 'Subscribers' page and download the latest quality MP3 (MP3PRO VBR of 95-150 kbps)podcasts to your Player!
'Blues Time' comes your way once a month. It draws its play list from the genres of acoustic and electric blues. Each podcast highlights new and recent releases. Duration is about an hour.

'SA Roots and Blues' is a non profit organisation. Our aim is to promote roots and blues music to an ever increasing patronage.