BLUES TIME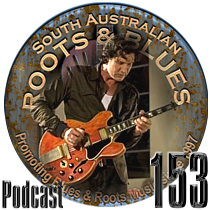 Press Play
Podcast 153 from SA Roots and Blues
ARTIST | ALBUM | TRACK
1 Darren Jack* - Better Place - Better Place.
2 Chris Russell's Chicken Walk - Chris Russell - Cry.
3 Blind Willy - Willing to crawl - Living The Blues.
4 Ten Foot Polecats - I get blamed for everthing I do - So Good To Me.
5 Aaron Williams and The Hoodoo - 10-49 - Boom Boom.
6 Scott H Biram - Somethings Wrong / Lost Forever - Time Flies.
New Year's medley:
7 Albert Castiglia - These Are The Days - Bad Year Blues.
8 Otis Redding and Carla Thomas - King and Queen - New Year's Resolution.
9 Etta James - All the way - Holding back the years.
10 Jimmy Burns - Back to the delta - How Many More Years.
11 Blind Willie Johnson - The complete Blind Willie Johnson - Sweeter as the years roll by.
12 Irma Thomas - Sweet Soul Queen of New Orleans - Time is on my side.
13 Alex Chilton - Jumpin' Jack Flash.
Fame Studio medley:
14 Mark 5 - Night Rumble pt. 1.
15 Arthur Conley - Sweet Soul Music.
16 Wilson Pickett - Land Of 1000 Dances.
17 The Blues Busters - Don't Lose Your Good Thing.
28 Bobby Marchan - Funny Style.
19 Clyde McPhatter - A Shot Of Rhythm & Blues.
20 Little Richard - Greenwood, Mississippi.
Audio Stream Quality: MP3.
Bitrate:56kb/s. Sample Rate: 22050Hz. Channels: Stereo.

Thanks to the musicians, promoters and distributors
who have allowed us to present their music.
Subscribe to SA Roots& Blues
(It's FREE) and obtain your 'user name' and 'password' to the 'Subscribers' page and download the latest quality MP3 (MP3PRO VBR of 95-150 kbps)podcasts to your Player!
'Blues Time' comes your way once a month. It draws its play list from the genres of acoustic and electric blues. Each podcast highlights new and recent releases. Duration is about an hour.

'SA Roots and Blues' is a non profit organisation. Our aim is to promote roots and blues music to an ever increasing patronage.