The Roots and Blues Hour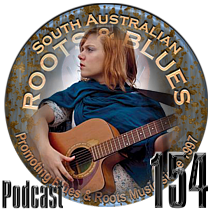 Press Play
Podcast 154
from
SA Roots and Blues
ARTIST | ALBUM | TRACK
1 Dawes - Nothing is Wrong - If I Wanted Someone.
2 Jessica Lea Mayfield - Tell Me - I'll Be The One You Want Someday.
3 Mike Doughty - Yes and also yes - Into The Un.
4 The Woodbine and Ivy Band - The Woodbine & Ivy Band - Gently Johnny.
5 Amos Lee - Mission Bell - Violin.
6 Bonnie Pointer - Like a Picasso - Strangest Day.
7 Lydia Loveless* - Indestructible Me - Crazy.
8 John Morland and The Dust Bowl Souls - Everything the hard way - Good Enough.
9 The Lonesome Line - The Lonesome Line - The Great Divine.
10 Arizona Baby - Second to None - Runaway.
11 Lindi Ortega - Little Red Boots - Little Red Boots.
12 Louise Aubrie - Fingers Crossed - Convenient Forgettable.
13 Marcus Foster - Nameless Path - Shadows of The City.
14 String of Ponies - Hurricane Millie - Sad Parade.
15 Tender Mercies - Tender Mercies - Ball and Chain.
16 Anna Ternheim - The Night Visitor - Bow Your Head.
Audio Stream Quality: MP3.
Bitrate:56kb/s. Sample Rate: 22050Hz. Channels: Stereo.

Thanks to the musicians, promoters and distributors
who have allowed us to present their music.
Subscribe to SA Roots& Blues
(It's FREE) and obtain your 'user name' and 'password' to the 'Subscribers' page and download the latest quality MP3 podcasts to your Player!
'The Roots and Blues Hour' once a month presents a rich mature selection from the genres of roots, alt. country, blues, folk and indie alt. rock. Each podcast highlights new and recent releases from these genres. Podcast duration is about an hour.

'SA Roots and Blues' is a non profit organisation. Our aim is to promote roots and blues music to an ever increasing patronage.