The Roots and Blues Hour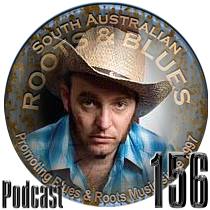 Press Play
Podcast 156
from
SA Roots and Blues
ARTIST | ALBUM | TRACK
1 Ray Bonneville - Bad Man's Blood - Darlin' (Put Your Suitcase Down).
2 The Hello Strangers - Introducing Max Schmidt - Conococheague.
3 Bap Kennedy - The Sailor's revenge - Working Man.
4 Jay Farrar - Terroir Blues The Dogtown Sessions - Out On The Road.
5 Dierks Bentley - Home - The heart of a Lonely girl.
6 John Doe - Keeper - Keeper - Jump Into My Arms.
7 Snooks La Vie - Another Place in Time - Sometimes Life Gets in the Way.
8 The Pardoners - Indulgences - Soaking up a summer afternoon.
9 Sonny Landreth - Down In Louisiana - Sugar Cane.
10 Mark Twain Words and Music - Indian Crow - Marty Raybon.
11 Youri Blow - Corridor - Muddy Streams.
12 Steve Cropper - Dedicated A Salute To The 5 Royales - When I Get Like This.
13 Ndidi Onukwulu - The escape - On the Metro.
14 Red Molly - Light in the Sky - Does My Ring Burn Your Finger.
15 Mike Doughty - Yes and also yes - Na Na Nothing.
16 Austin Lucas - A New Home in The Old World - Sleep Well.
Audio Stream Quality: MP3.
Bitrate:56kb/s. Sample Rate: 22050Hz. Channels: Stereo.

Thanks to the musicians, promoters and distributors
who have allowed us to present their music.
Subscribe to SA Roots& Blues
(It's FREE) and obtain your 'user name' and 'password' to the 'Subscribers' page and download the latest quality MP3 podcasts to your Player!
'The Roots and Blues Hour'
once a month presents a rich mature selection from the genres of roots, alt. country, blues, folk and indie alt. rock. Each podcast highlights new and recent releases from these genres. Podcast duration is about an hour.