The Roots and Blues Hour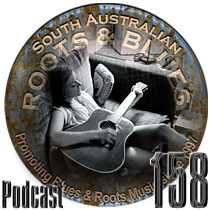 Press Play
Podcast 158
from
SA Roots and Blues
ARTIST | ALBUM | TRACK
1 Chelsea Crowell - Crystal City - Gonna Freeze.
2 Justin Townes Earle - Nothings Gonna Change The Way Yo - Look The Other Way.
3 Samantha Martin & the Haggard - Samantha Martin & the Haggard - Dark Angel.
4 Mike De Velta - Whiskey in the mornin' - This great love.
5 Ray Bonneville - Bad man's blood - Good Times.
6 Farrar,Johnson,Parker,Yames - New Multitudes - Fly High.
7 Ruthie Foster - Let it burn - Long Time Gone.
8 Good Luck Mountain - Good Luck Mountain - Wayward blues.
9 Elliott Brood - Days into years - If I get old.
10 Cowby Junkies - The Wilderness - Damaged From The Start.
11 Jen Rawling - Take to the air - Big Old Lake.
12 I See Hawks In L.A. - New Kind Of Lonely - Bohemian Highway.
13 Charlie Faye - Travels with Charlie - Whirlwind.
14 Blues Delight - Open all night - Traveling Kind.
15 The Pines - Dark so gold - Dead Feathers.
16 Snooks La Vie - Another Place in Time - No Need to Worry.
Audio Stream Quality: MP3.
Bitrate:56kb/s. Sample Rate: 22050Hz. Channels: Stereo.

Thanks to the musicians, promoters and distributors
who have allowed us to present their music.
Subscribe to SA Roots& Blues
(It's FREE) and obtain your 'user name' and 'password' to the 'Subscribers' page and download the latest quality MP3 podcasts to your Player!
'The Roots and Blues Hour'
Once a month Jerome Douvendahns presents a rich mature selection from the genres of roots, alt. country, blues, folk and indie alt. rock. Each podcast highlights new and recent releases from these genres. Podcast duration is about an hour.