BLUES TIME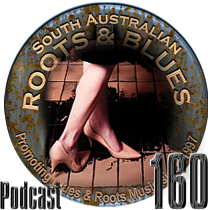 Press Play
Podcast 160 from SA Roots and Blues
ARTIST | ALBUM | TRACK
1 Joan Osborne - Bring it on home - I Don't Need No Doctor.
2 John Pippus - Wrapped Up In the Blues - Those Five Days.
3 Treasa Levasseur* - Broad - A Little Pride.
4 Mud Dog - Devil's Ride - Gastown Blues.
5 Joe Louis Walker - Hell fire - Black Girls.
6 Delta Moon - Black Cat Oil - Down And Dirty.
7 Ray Wylie Hubbard - The Grifter's Hymnal - South of the River.
8 Carolina Chocolate Drops - Leaving Eden - Country Girl.
9 Garland Jeffreys - The King Of In Between - 'til John Lee Hooker Calls Me.
10 Lucky Peterson - Cant Get No Loving On The Telephone.
11 Little G Weevil - The Teaser - Real Men Don't Dance.
12 Mick Kidd - Rehab and Camel - It's all worth it.
13 Dukesy and the Hazzards - Ain't Coming Back to You - Please.
14 Shaun Murphy - Live At Callahan's - It Feels Like Rain.
* artist pictured
Audio Stream Quality: MP3.
Bitrate:56kb/s. Sample Rate: 22050Hz. Channels: Stereo.

Thanks to the musicians, promoters and distributors
who have allowed us to present their music.
Subscribe to SA Roots& Blues
(It's FREE) and obtain your 'user name' and 'password' to the 'Subscribers' page and download the latest quality MP3 podcasts to your Player!
'Blues Time' comes your way once a month. It draws its play list from the genres of acoustic and electric blues. Each podcast highlights new and recent releases. Duration is about an hour.

'SA Roots and Blues' is a non profit organisation. Our aim is to promote roots and blues music to an ever increasing patronage.