The Roots and Blues Hour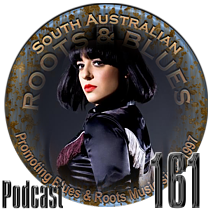 Press Play
Podcast 161
from
SA Roots and Blues
ARTIST | ALBUM | TRACK
1 Shelley Miller - February - White Flag.
2 Carla Lippis* and The Martial Hearts - Rendezvous.
3 Matt Walker - Banished Now From My Native Shore The Verse of Frank The Poet - Bold Jack Donohoe.
4 Rose Cousins - We have made a spark - The Darkness.
5 Johnson's Crossroad - Mockingbird - Postcards To Peru.
6 Penelope Houston - On Market Street - You reel me in.
7 Junior Bowles - The Time Will Come - The Time Will Come.
8 Leeroy Stagger - Radiant Land - Dirty Windshields.
9 Shearwater - Animal joy - Dread sovereign.
10 Drew Landry - The Share Croppers Whine - Take My Place.
11 Mark Collie - Alive at Brushy Mountain State Penitentiary - Reckless Companions.
12 Farrar,Johnson,Parker,Yames - Angel's Blues.
13 Jim White - Where it hits you - The Way of Alone.
14 Steph Macpherson - Bells and Whistles - Bells and Whistles.
Audio Stream Quality: MP3.
Bitrate:56kb/s. Sample Rate: 22050Hz. Channels: Stereo.

Thanks to the musicians, promoters and distributors
who have allowed us to present their music.
Subscribe to SA Roots& Blues
(It's FREE) and obtain your 'user name' and 'password' to the 'Subscribers' page and download the latest quality MP3 podcasts to your Player!
'The Roots and Blues Hour'
Once a month Jerome Douvendahns presents a rich mature selection from the genres of roots, alt. country, blues, folk and indie alt. rock. Each podcast highlights new and recent releases from these genres. Podcast duration is about an hour.