The Roots and Blues Hour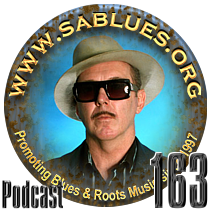 Press Play
Podcast 163
from
SA Roots and Blues
ARTIST | ALBUM | TRACK
1 Sara Watkins - Sun Midnight Sun - You and me.
2 Angus Stone - Broken Brights - The Blue Door.
3 Karen Collins & the Backroads - No Yodeling on the radio - Blindsided.
4 Holly Golightly featuring The Brokeoffs - Long Distance - No Big Thing.
5 Ellen & The Escapades - All The Crooked Scenes - All The Crooked Scenes.
6 Alejandro Escovedo - Big Station - Sally Was a Cop.
7 Anders Osborne - RADIO EDIT When Will I See You Again.
8 Dave Graney* and The Mistly - You've been in my mind - Flash in the pantz.
9 JD McPherson - Signs and Signifiers - Dimes for Nickels.
10 Jordan Minor - The Cottonwood Tree - Honeycomb.
11 Grace Potter & The Nocturnals - The Lion The Beast The Beat - Stars.
12 Kelly Pardekooper - Yonder - Yonder.
13 Lyle Lovett - Release me - Brown Eyed Handsome Man.
14 Patti Smith - Banga - After The Gold Rush.
15 Megan Reilly - The Well - To Seal My Love.
16 Shearwater - Animal joy - Believing makes it easy.
17 Alejandro Escovedo - Big Station - San Antonio Rain.
Audio Stream Quality: MP3.
Bitrate:56kb/s. Sample Rate: 22050Hz. Channels: Stereo.

Thanks to the musicians, promoters and distributors
who have allowed us to present their music.
Subscribe to SA Roots& Blues
(It's FREE) and obtain your 'user name' and 'password' to the 'Subscribers' page and download the latest quality MP3 podcasts to your Player!
'The Roots and Blues Hour'
Once a month Jerome Douvendahns presents a rich mature selection from the genres of roots, alt. country, blues, folk and indie alt. rock. Each podcast highlights new and recent releases from these genres. Podcast duration is about an hour.