Artists featured in Podcast 167.
Image number below coincides with Track number right.


.
The Roots and Blues Hour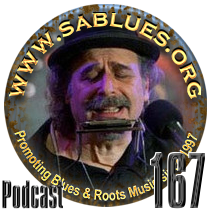 Press Play
Podcast 167 from SA Roots and Blues
ARTIST | ALBUM | TRACK
1 Al Lerman* - Crowe River Blues - I'm Gone.
2 Chris Smither - Hundred Dollar Valentine - I Feel The Same.
3 Louise Taylor - Tangerine - Walk Five Miles.
4 Dar Williams - In the time of Gods - You Will Ride With Me Tonight.
5 Skydiggers - Northern Shore - Deep Water (31 Mile Lake).
6 Sleepy Driver - In a low dark light - Long Time Coming Home.
7 The Brett Cohen Band - I Just Wanna Get You Home.
8 Bethany Larson and The Bees Knees - When we reach the city - Still.
9 Nitty Gritty Dirt Band - Brand New Heartache.
10 Jimmy Marin - Something True - Blues for you.
11 The Rosaline - Vast as the sky - Mexico.
12 Drew Holcomb and The Neighbors - Through the night - Learning to Fly
13 Walt Wilkins - Plenty - Rain All Night.
14 Todd Snider - Time as we know it - Hill Country Rain.
15 Isbells - Isbells - Elation.
16 Ry Cooder - Election Special - Brother is gone.
*pictured

Audio Stream Quality: MP3.
Bitrate:56kb/s. Sample Rate: 22050Hz. Channels: Stereo.

Thanks to the musicians, promoters and distributors
who have allowed us to present their music.
Subscribe to SA Roots& Blues
(It's FREE) and obtain your 'user name' and 'password' to the 'Subscribers' page and download the latest quality MP3 podcasts to your Player!
'The Roots and Blues Hour'
Once a month Jerome Douvendahns presents a rich mature selection from the genres of roots, alt. country, blues, folk and indie alt. rock. Each podcast highlights new and recent releases from these genres. Podcast duration is about an hour.