Podcast 169.
September 2012's Roots and Blues Hour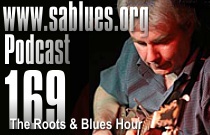 The Roots and Blues Hour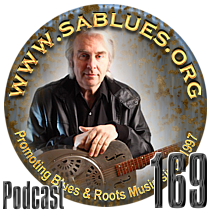 Press Play
Podcast 169 from SA Roots and Blues
ARTIST | ALBUM | TRACK
1 Nick Charles* - Into the blues - Denver Blues.
2 Jimmy Fleming - The Crow the Creeper Sessions - Dark Bird.
3 Professor Louie - Wings on Fire - The Bird Song.
4 Rosco Bandana - Time To Begin - Time To Begin.
5 Rick Holmstrom - Cruel Sunrise - Owe You Everything.
6 The Raveonettes - Observer - Young and cold.
7 Something Blue - Home Sweet Home - Up All Night.
8 Laneway -Turn your love up - Love is a Devil.
9 Michael On Fire - Cadillac Ranch EP - Burma Shave Memory.
10 Malcolm Holcombe - Down the river - Butcher in Town.
11 Juliana Hatfield - Juliana Hatfield - Learn to Fly.
12 Alyssa Bonagura - The English Diaries - Fly.
13 Chris Michols - From the Start.
14 Bethany Larson and The Bees Knees - When we reach the city - The Devil Is On His Way Out.
15 Bob Pressner - Looking Back - Too Old To Die Young.
16 Dikta - Get it together - Thank You.
17 Nick Charles - Into the blues - Light at the end of the road.
*pictured

Audio Stream Quality: MP3.
Bitrate:56kb/s. Sample Rate: 22050Hz. Channels: Stereo.

Thanks to the musicians, promoters and distributors
who have allowed us to present their music.
Subscribe to SA Roots& Blues
(It's FREE) and obtain your 'user name' and 'password' to the 'Subscribers' page and download the latest quality MP3 podcasts to your Player!
'The Roots and Blues Hour'
Once a month Jerome Douvendahns presents a rich mature selection from the genres of roots, alt. country, blues, folk and indie alt. rock. Each podcast highlights new and recent releases from these genres. Podcast duration is about an hour.