Podcast 170.
October 2012's Blues Time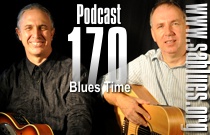 Keith Hall and Pat Doe
BLUES TIME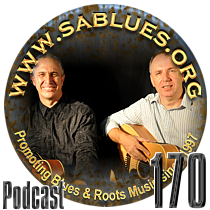 Press Play
Podcast 170 from SA Roots and Blues
ARTIST | ALBUM | TRACK
1 Steve Foster & Howler - Tied Up In The Blues.
2 Ian Siegal & the Mississippi Mudbloods - Candy Store Kid - Bayou Country.
3 Buckwheat Zydeco - Lay your burden down - When The Levee Breaks.
4 Billy Seward & Soulfonic - Better Place - Walking The Streets At Night.
5 J Edwards - Lulu's House - Eatin at LuLu's.
6 Anne Weiss - Where folk get the blues - Come On In My Kitchen.
7 Little G Weevil - The Teaser - Back Porch.
8 Jimmy Fleming - The Crow the Creeper Sessions - White Lightnin'.
9 The Bluesmasters - Volume 2 - Tangoray.
10 Keith Hall & Pat Doe* - This Kind of Blue - Hey.
11 Danny Marks - A Friend In The Blues - Two Brothers.
12 Nick Waterhouse - Time's all gone - (If) You Want Trouble.
13 Smoke Wagon Blues Band - It Ain't Easy - That Voodoo.
14 Paul Reddick - Wishbone - The Other Man.
15 Rick Holstrom - Cruel Sunrise - Need To Dream.
16 Gravel Road - Psychedelta - Caves..
* artists pictured
Audio Stream Quality: MP3.
Bitrate:56kb/s. Sample Rate: 22050Hz. Channels: Stereo.

Thanks to the musicians, promoters and distributors
who have allowed us to present their music.
Subscribe to SA Roots& Blues
(It's FREE) and obtain your 'user name' and 'password' to the 'Subscribers' page and download the latest quality MP3 podcasts to your Player!
'Blues Time' comes your way once a month. It draws its play list from the genres of acoustic and electric blues. Each podcast highlights new and recent releases. Duration is about an hour.

'SA Roots and Blues' is a non profit organisation. Our aim is to promote roots and blues music to an ever increasing patronage.