Podcast 171.
Oct 2012's Roots and Blues Hour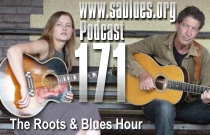 The Roots and Blues Hour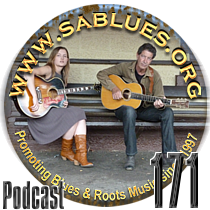 Press Play
Podcast 171 from SA Roots and Blues
ARTIST | ALBUM | TRACK
1 Andy and Marta - Open Sea - Angels need.
2 Cal Williams Jr - Honeychild - Blues runs the game.
3 Sera Cahoone - Deer creek Canyon - Worry All Your Life.
4 Black Prairie - The storm in the barn - Do You Believe.
5 Black Prairie - A Tear in the Eye Is a Wound in the Heart - Nowhere Massachusetts.
6 Matt Walker - In echoes of dawn - Cant Sleep.
7 Jesca Hoop - The House That Jack Built - The House That Jack Built.
8 Kathy Mattea - Calling me home - Hello My Name Is Coal.
9 Calexico - Algiers - Maybe On Monday.
10 Lucy Kaplansky - Reunion - Gone Gone Gone.
11 Freeman Dre And The Kitchen Party - Old Town - She Goes Riding.
12 Iris DeMent - Sing the Delta - The Night I Learned How Not to Pray.
13 Mike Cullison - The Barstool Monologues - Ghost of My Heart.
14 Juliana Hatfield - Juliana Hatfield - Ready for Love.
15 Kati Mac - Save Me From Myself - Save Me From Myself.
16 Sera Cahoone - Deer creek Canyon - Naked.

*pictured

Audio Stream Quality: MP3.
Bitrate:56kb/s. Sample Rate: 22050Hz. Channels: Stereo.

Thanks to the musicians, promoters and distributors
who have allowed us to present their music.
Subscribe to SA Roots& Blues
(It's FREE) and obtain your 'user name' and 'password' to the 'Subscribers' page and download the latest quality MP3 podcasts to your Player!
'The Roots and Blues Hour'
Once a month Jerome Douvendahns presents a rich mature selection from the genres of roots, alt. country, blues, folk and indie alt. rock. Each podcast highlights new and recent releases from these genres. Podcast duration is about an hour.