Podcast 173.
Nov 2012's Roots and Blues Hour
Celebrating Australian Music Month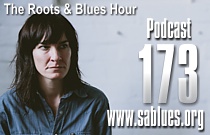 Jen Cloher
The Roots and Blues Hour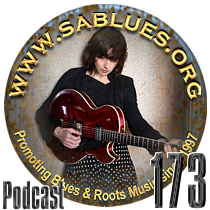 Press Play
Podcast 173 from SA Roots and Blues
ARTIST | ALBUM | TRACK
1 Jen Cloher - Permanent Marker - State Trooper.
2 Lucie Thorne* - Bonfires in Silver City - Great Wave.
3 Shelley Evans - Big Horse Black - Big Horse Black.
4 Carla Lippis and The Martial Hearts - Rendezvous.
5 Sara Tindley - Time - Yellow Moonlight.
6 Emily Davis - Undone - Conjure Woman Blues.
7 Corrina Steel - A Fling with the King - Woman.
8 Heather Stewart - Get Your Fingers Off It - Wayward Woman.
9 Abbe May - Howl and Moan - A Blackout In Your Town.
10 Susannah Espie - A Few More Days - Wedding Night.
11 Cyndi Boste - Home Truths - Night Ride.
12 Laneway - Turn your love up - Love is a Devil.
13 Lanie Lane - To the Horses - Like Me Meaner.
14 Jen Cloher - Hidden Hands - Hidden Hands.

*pictured

Audio Stream Quality: MP3.
Bitrate:56kb/s. Sample Rate: 22050Hz. Channels: Stereo.

Thanks to the musicians, promoters and distributors
who have allowed us to present their music.
Subscribe to SA Roots& Blues
(It's FREE) and obtain your 'user name' and 'password' to the 'Subscribers' page and download the latest quality MP3 podcasts to your Player!
'The Roots and Blues Hour'
Once a month Jerome Douvendahns presents a rich mature selection from the genres of roots, alt. country, blues, folk and indie alt. rock. Each podcast highlights new and recent releases from these genres. Podcast duration is about an hour.