Podcast 174.
December 2012's Blues Time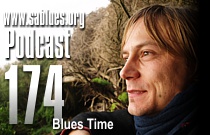 Tobias Moldenhauer
Podcast track 11 is 'Endless Sleep' from 1958
by Jody Reynolds.
View the video clip of 'Endless Sleep'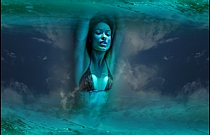 www.angstartarena.com/flv/endless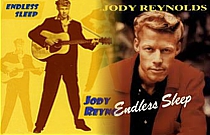 Jody Reynolds. "Endless Sleep". 1958.
American singer and guitarist Jody Reynolds was born Ralph Joseph Reynolds in 1932 and died in 2008 aged 75. In 1999 he was inducted into the Rockabilly Hall Of Fame. His biggest hit single was "Endless Sleep", which reached #5 in the U.S. Billboard Hot 100 chart on July 7, 1958. Back then many radio stations refused to play this death rock ballad because music industry reports warned that the lyrics might encourage young people to commit suicide - in spite of the fact that in thie song the girl is rescued, and no one actually dies.
BLUES TIME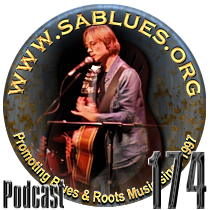 Press Play
Podcast 174 from SA Roots and Blues
ARTIST | ALBUM | TRACK
1 Tobias Moldenhauer* Trio - Solitary Bones - Where the light is strong.
2 Hat Fitz and Cara Robinson - Wiley Ways - Go Daddy.
3 The Reverend Peytons Big Damn Band - Between the Ditches - Shake 'Em Off Like Fleas.
4 Memphis Minnie - Crazy Cryin Blues.
5 Maria Muldaur and Alvin Youngblood Hart - First Came Memphis Minnie - Crazy Cryin' Blues.
6 Charley Patton - Screamin' and Hollerin The Blues.
7 Junior Bowles - Screamin' And Hollerin The Blues.
8 The Valentinos - It's All Over Now.
9 The Rolling Stones - It's All Over Now.
10 Wanda Jackson - Unfinished Business - It's All Over Now.
11 Jody Reynolds - Endless Sleep.
12 The Beatles - Abbey Road - Come Together.
13 Claude Hay - I love hate you - Come together.
14 Ray Manzarek and Roy_ Rogers - Translucent Blues - River of madness.
15 David Hidalgo, Mato Nanji, Luther Dickinson - 3 skulls and the truth - All I Know.
16 James Buddy Rogers - My guitars my only friend - I'm on the road again.
17 Ruby Velle and The Soulphonics - Its about time - Soul of the Earth.
18 Sam McClain - Too Much Jesus Not Enough Whiskey - I Wish You Well.
19 The Others - Ode to Aaron.
20 Tobias Moldenhauer Trio - Solitary Bones - Solitary Bones.
21 Leo Hull and the Texas Blues Machine - Bootleggin' The Blues - Bootleggin' Blues.
22 Rick Holstrom - Cruel Sunrise - Folsom Prison..
* artists pictured
Audio Stream Quality: MP3.
Bitrate:56kb/s. Sample Rate: 22050Hz. Channels: Stereo.

Thanks to the musicians, promoters and distributors
who have allowed us to present their music.
Subscribe to SA Roots& Blues
(It's FREE) and obtain your 'user name' and 'password' to the 'Subscribers' page and download the latest quality MP3 podcasts to your Player!
'Blues Time' comes your way once a month. It draws its play list from the genres of acoustic and electric blues. Each podcast highlights new and recent releases. Duration is about an hour.

'SA Roots and Blues' is a non profit organisation. Our aim is to promote roots and blues music to an ever increasing patronage.