Podcast 175.
Dec 2012's Roots and Blues Hour
The Maldives
The Roots and Blues Hour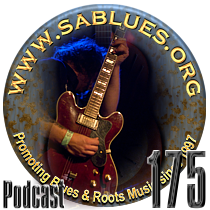 Press Play
Podcast 175 from SA Roots and Blues
ARTIST | ALBUM | TRACK
1 The Maldives* - Muscle for the Wing - Blood On the Highway.
2 Lord Huron - Lonesome Dreams - Ends Of The Earth.
3 Blind Atlas - Kodiak Bear - Brother Moon.
4 Minnesota - Are you there -Death by Snakebite.
5 Delta Reign - Calm Before The Storm - Cant Find My Way Home.
6 Chris Knight - Little victories - You Lie When You Call My Name.
7 Anna Coogan and Daniele Fiaschi - The Nowhere, Rome Sessions - Red shoes black dress.
8 Mississippi Sheiks - Stop and Listen - Lonely One in This Town.
9 Buddy Miller and Jim Lauderdale - Buddy and Jim - Lonely One in This Town.
10 Jen Cloher - Single - Mount Beauty (Radio edit).
11 Jen Cloher with Courtney Barnett - EP - Numbers.
12 Kasey Chambers and Shane Nicholson - Wreck and Ruin - Flat Nail Joe.
13 Holly Golightly and The Brokeoffs - Sunday Roll Over Me - Goddamn Holy Roll.
14 John Hiatt - Mystic Pinball - You're All the Reason I Need.
15 The Rolling Stones - Grrr - Doom and Gloom
16 Lucero - Women and Work - On My Way Downtown.
17 Aimee Mann - Charmer - Charmer.
18 Betty LaVette - Thanful n thoughtful - Dirty Old Town.
19 Langhorne Slim and The Law - The way we move - Bad Luck.
20 Sara Cahoone - Deer creek Canyon - Deer Creek Canyon.

*pictured

Audio Stream Quality: MP3.
Bitrate:56kb/s. Sample Rate: 22050Hz. Channels: Stereo.

Thanks to the musicians, promoters and distributors
who have allowed us to present their music.
Subscribe to SA Roots& Blues
(It's FREE) and obtain your 'user name' and 'password' to the 'Subscribers' page and download the latest quality MP3 podcasts to your Player!
'The Roots and Blues Hour'
Once a month Jerome Douvendahns presents a rich mature selection from the genres of roots, alt. country, blues, folk and indie alt. rock. Each podcast highlights new and recent releases from these genres. Podcast duration is about an hour.