Podcast 176.
Jan 2013's Blues Time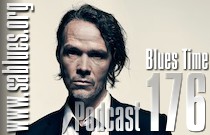 Hugo Race
Jan 2013's BLUES TIME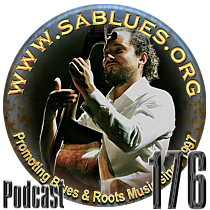 Press Play
Podcast 176 from SA Roots and Blues
ARTIST | ALBUM | TRACK
1 Heart Attack Alley - Living in Hell - Too Hot Blues.
2 Jake Lear - Diamonds & Stones - I See a train coming.
3 Steinar Raknes* - Stillhouse - Tear My Stillhouse Down.
4 Hugo Race Fatalists - We Never Had Control - Ghostwriter.
5 Claude Hay - I love hate you - Narrow mind.
6 The Billy Bats - Lather Rinse Repeat - I Hear A Heartbeat.
7 Shaun Murphy - Ask For The Moon - Mighty Long Road.
8 The Blues Overdrive - The Blues Overdrive - Out in the country.
9 Stevie DuPree and The Delta Flyers - Dr. DuPree's Love Shop - Broke Up.
10 Teresa James & The Rhythm Tramps - Come On Home - She's Got a Way with Men.
11 The Hushes - Black Betty - Black Betty.
12 Nigel Wearne - Black Crow - Stealth.
13 The Barrel Jumpers - Blind Willie McTell.
14. Scotty Miller Band - Rise up - When in doubt.
15 Steinar Raknes - Stillhouse - Killing The Blues.
* artists pictured
Audio Stream Quality: MP3.
Bitrate:56kb/s. Sample Rate: 22050Hz. Channels: Stereo.

Thanks to the musicians, promoters and distributors
who have allowed us to present their music.
Subscribe to SA Roots& Blues
(It's FREE) and obtain your 'user name' and 'password' to the 'Subscribers' page and download the latest quality MP3 podcasts to your Player!
'Blues Time' comes your way once a month. It draws its play list from the genres of acoustic and electric blues. Each podcast highlights new and recent releases. Duration is about an hour.

'SA Roots and Blues' is a non profit organisation. Our aim is to promote roots and blues music to an ever increasing patronage.