Podcast 177.
Jan 2013's Roots and Blues Hour
Benny Walker
The Roots and Blues Hour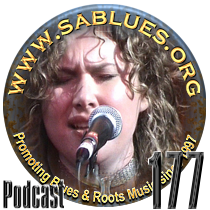 Press Play
Podcast 177 from SA Roots and Blues
ARTIST | ALBUM | TRACK
1 Suzannah Espie* - Sea of Lights - Bluebird Boots.
2 Benny Walker - Sinners and Saints - Ticket for a train (slow train).
3 Ben Sollee - Inclusions - Close to You.
4 Oscar Louise - Empty House - Forever And A Week.
5 Lisa Miller - Meet the Misses - Wipe the floor.
6 Chris Altmann - Chris Altmann - Some People.
7 Exene Cervenka - Somewhere Gone - Surface Of The Sun.
8 Maxim Senin - Chains of Love.
9 Alabama Shakes - Boys and Girls - Hold On.
10 First Aid Kit - The Lion's Roar - Emmylou.
11 Jeff Black - B Sides and Confessions Vol 2 - Avalon.
12 Kiersten Holine - Candescent - Nomad.
13 Matty Powell - Bright Lights - Freja.
14 Nigel Wearne - Black Crow - Pemulwuy.
15 Benny Walker - Sinners and Saints - Ticket for a train (express train).
*pictured

Audio Stream Quality: MP3.
Bitrate:56kb/s. Sample Rate: 22050Hz. Channels: Stereo.

Thanks to the musicians, promoters and distributors
who have allowed us to present their music.
Subscribe to SA Roots& Blues
(It's FREE) and obtain your 'user name' and 'password' to the 'Subscribers' page and download the latest quality MP3 podcasts to your Player!
'The Roots and Blues Hour'
Once a month Jerome Douvendahns presents a rich mature selection from the genres of roots, alt. country, blues, folk and indie alt. rock. Each podcast highlights new and recent releases from these genres. Podcast duration is about an hour.