Press Play Button to view YouTube promo for Podcast 179.

Podcast 179.
Feb 2013's Roots and Blues Hour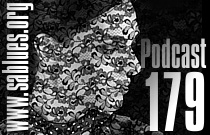 Rachel Hamel of Oscar Louise
The Roots and Blues Hour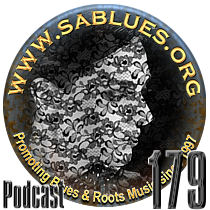 Press Play
Podcast 179 from SA Roots and Blues
ARTIST | ALBUM | TRACK
1 Hugo Race - The Journey is long - I'm Going Upstairs.
2 Oscar Louise* - Empty House - A Tale Of The Sea.
3 Russell Morris - Sharkmouth - Squizzy.
4 Guy Forsyth - The Freedom to Fail - Red Dirt.
5 Jupiter Creek - Pocket Knife EP - Everything's changing.
6 Mount Moriah - Miracle Temple - Bright Light.
7 Carrie Rodriguez - Give me all you got - I cry for love.
8 Stormcellar - Hired Guns and Borrowed Glory - Wine to Water.
9 Eric Burdon - Til Your River Runs Dry - Water.
10 The Revelers - The Revelers - Kidnapper.
11 Stephen Fearing - Between Hurricanes - Wheel Of Love.
12 Richard Thompson - Electric - Stony Ground.
13 Ben Harper and Charlie Musselwhite - Get Up! - We Can't End This Way.
14 Zachary Richard - Le Fou - Laisse Le Vent Souffler.
15 Oscar Louise - Empty House - Practically Blue.
*pictured

Audio Stream Quality: MP3.
Bitrate:56kb/s. Sample Rate: 22050Hz. Channels: Stereo.

Thanks to the musicians, promoters and distributors
who have allowed us to present their music.
Subscribe to SA Roots& Blues
(It's FREE) and obtain your 'user name' and 'password' to the 'Subscribers' page and download the latest quality MP3 podcasts to your Player!
'The Roots and Blues Hour'
Once a month Jerome Douvendahns presents a rich mature selection from the genres of roots, alt. country, blues, folk and indie alt. rock. Each podcast highlights new and recent releases from these genres. Podcast duration is about an hour.