Podcast 181.
March 2013's Roots and Blues Hour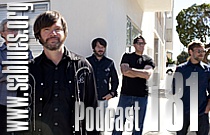 Featuring: Son Volt
The Roots and Blues Hour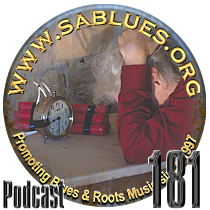 Press Play
Podcast 181 from SA Roots and Blues
ARTIST | ALBUM | TRACK
1 Son Volt - Honky Tonk - Wild Side.
2 Gurf Morlix* - Finds The Present Tense - Present Tense.
3 Emmylou Harris & Rodney Crowell - Old Yellow Moon - Chase the Feeling.
4 Jen Cloher - Southern Skies.
5 Drew Holcomb & The Neighbors - Good Light - Good Light.
6 Caitlin Rose - The Stand-in - No One to Call.
7 Jack Derwin - Covered All in Blue - Magnolia.
8 Lisa Miller - Meet the Misses - Hang my head.
9 Carrie Newcomer - Kindred Spirits - The Gathering of Spirits.
10 Kites and Crows - More for the Mender - Rusty Heart.
11 Sarah & The Tall Boys - Live in Chicago - The Life I Chose.
12 Sweethearts of the Rodeo - Restless - Restless.
13 Marie Miller - Marie Miller - You're Not Alone.
14 The View - Cheeky for a Reason - The Clock.
15 The Reign Kings - Bloom - She Likes To Crash.
16 Rickie Lee Jones - The devil you know - Sympathy For The Devil.
*pictured

Audio Stream Quality: MP3.
Bitrate:56kb/s. Sample Rate: 22050Hz. Channels: Stereo.

Thanks to the musicians, promoters and distributors
who have allowed us to present their music.
Subscribe to SA Roots& Blues
(It's FREE) and obtain your 'user name' and 'password' to the 'Subscribers' page and download the latest quality MP3 podcasts to your Player!
'The Roots and Blues Hour'
Once a month Jerome Douvendahns presents a rich mature selection from the genres of roots, alt. country, blues, folk and indie alt. rock. Each podcast highlights new and recent releases from these genres. Podcast duration is about an hour.