Podcast 182.
April 2013's Blues Time
featured in Podcast 182.
April 2013's BLUES TIME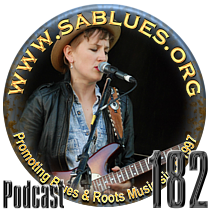 Press Play
Podcast 182 from SA Roots and Blues
ARTIST | ALBUM | TRACK
1 Marshall Peery Project - Life's Too Short - Life's Too Short.
2 Chris Antonik - Better for You - Long Way to Go.
3 Mia Dyson* - The Moment - Cigarettes.
4 James Montgomery Band - From Detroit to the Delta - Intoxicated.
5 Rusty Wright Band - This, That & The Other Thing - Whole Lotta Rosie.
6 Sugarcane Collins - Downunder the Blues - Flowers by the Roadside.
7 Nick Cave - The Journey is long (Jeffrey Lee Pierce Sessions) - City In Pain.
8 Stevie DuPree & The Delta Flyers - Dr. DuPree's Love Shop - Dr. DuPree's Love Shop.
9 Eric Burdon - Til Your River Runs Dry - Old Habits Die Hard.
10 Bex Marshall - The House of Mercy - The House of Mercy.
11 Curtis Salgado - Soul Shot - What you gonna do.
12 Hadden Sayers - Rolling Soul - Don't Take Your Love Out On Me.
13 R B Stone - Lonesome Traveler's Blues - Ain't Gonna Bring Me Down.
14 Andy T & Nick Nixon Band - Drink Drank Drunk - Midnight Hour.
15 Small Blues Trap - The Longest Road I Know - Your Mind Keeps Ramblin'.
16 Marshall Peery Project - Bourbon Women and Too Much Time.
* pictured
Audio Stream Quality: MP3.
Bitrate:56kb/s. Sample Rate: 22050Hz. Channels: Stereo.

Thanks to the musicians, promoters and distributors
who have allowed us to present their music.
Subscribe to SA Roots& Blues
(It's FREE) and obtain your 'user name' and 'password' to the 'Subscribers' page and download the latest quality MP3 podcasts to your Player!
'Blues Time' comes your way once a month. It draws its play list from the genres of acoustic and electric blues. Each podcast highlights new and recent releases. Duration is about an hour.

'SA Roots and Blues' is a non profit organisation. Our aim is to promote roots and blues music to an ever increasing patronage.