Podcast 187.
June 2013's Roots and Blues Hour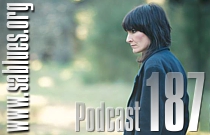 Featuring: Jen Cloher
The Roots and Blues Hour
Press Play
Podcast 187 from SA Roots and Blues
ARTIST | ALBUM | TRACK
1 Jen Cloher - In Blood Memory - Name in Lights.
2 Max Savage* - False Idols - Undertaker.
3 Dave Davies - I Will Be Me - Midnight In L.A.
4 Tejas Brothers - Live a Little More - Chasin' Down the Devil.
5 Matt Walker - Mama Go Tell Your Children EP.
6 I See Hawks In LA - Mystery Drug - Oklahoma's Going Dry.
7 Michael Penn - Palms & Runes, Tarot & Tea - Macy Day Parade.
8 Thea Gilmore - Regardless - Let It Be Known.
9 Lynn Miles - Downpour - Lesson in Everything.
10 Patty Griffin - American Kid - Ohio.
11 Lisa Bell - The Italian Project - Bring the Love.
12 Camera Obscura - Desire Lines - Desire Lines.
13 Deborah Holland - Vancouver - Vancouver.
14 Laura Marling - Once I Was an Eagle - Master Hunter.
15 Melissa Ferrick - The Truth Is - Wreck Me.
16 Lisa Miller - Meet the Misses - False Waltz.
*pictured

Audio Stream Quality: MP3.
Bitrate:56kb/s. Sample Rate: 22050Hz. Channels: Stereo.

Thanks to the musicians, promoters and distributors
who have allowed us to present their music.
Subscribe to SA Roots& Blues
(It's FREE) and obtain your 'user name' and 'password' to the 'Subscribers' page and download the latest quality MP3 podcasts to your Player!
'The Roots and Blues Hour'
Once a month Jerome Douvendahns presents a rich mature selection from the genres of roots, alt. country, blues, folk and indie alt. rock. Each podcast highlights new and recent releases from these genres. Podcast duration is about an hour.