Podcast 193.
Sept 2013's Roots and Blues Hour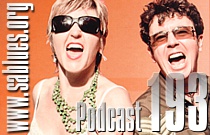 Featuring: The Borderers
The Roots and Blues Hour
Press Play
Podcast 193 from SA Roots and Blues
ARTIST | ALBUM | TRACK
1 Don Morrison - Don Morrison - I stay awake and wonder.
2 The Borderers - Rise Up! - Rise Up!
3 The Quiet American - Wild Bill Jones - Apple in the Fall.
4 The Moondoggies - Adiós I'm a Ghost - Annie Turn Out the Lights.
5 The Civil Wars - The Civil Wars - I Had Me a Girl.
6 Willard Grant Conspiracy - Ghost Republic - Perry Wallis.
7 Slaid Cleaves - Still Fighting The War - Rust Belt Fields.
8 Old Crow Medicine Show - Carry Me Back To Virginia - Dixieland Delight.
9 Neko Case - The worse things get - City Swan.
10 Amanda Shires - Down Fell the Dove - Devastate.
11 Kim Richey - Thorn In My Heart - Take Me To The Other Side.
12 Melissa Ferrick - The truth is - Overboard.
13 Sweethearts of the Rodeo - Restess - Too Little Too Late.
14 Dirtmusic - Trouble - Trouble.
15 JJ Cale - Roll On - Leaving in the morning.

Audio Stream Quality: MP3.
Bitrate:56kb/s. Sample Rate: 22050Hz. Channels: Stereo.

Thanks to the musicians, promoters and distributors
who have allowed us to present their music.
Subscribe to SA Roots& Blues
(It's FREE) and obtain your 'user name' and 'password' to the 'Subscribers' page and download the latest quality MP3 podcasts to your Player!
'The Roots and Blues Hour'
Once a month Jerome Douvendahns presents a rich mature selection from the genres of roots, alt. country, blues, folk and indie alt. rock. Each podcast highlights new and recent releases from these genres. Podcast duration is about an hour.