Podcast 194.
Oct 2013's Blues Time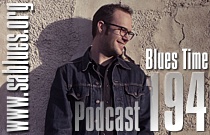 featuring Pete Cornelius
Oct 2013's BLUES TIME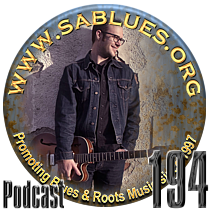 Press Play
Podcast 194 from SA Roots and Blues
1 Pete Cornelius* - Groundswell - Cold Water.
2 Wolf Mail - Under the influence - You move me.
3 Nikki Hill - This is Nikki Hill - Her Destination.
4 The Hoax - Big City Blues - Two Steps Back.
5 North Mississippi Allstars - World Boogie Is Coming - Meet Me in the City.
6 Trampled Under Foot - Badlands - Badlands.
7 Dudley Taft - Deep Deep Blue - Wishing Well.
8 David Egan - David Egan - One foot in the bayou.
9 Grand Marquis - Blues and Trouble - Empire of Dirt.
10 Rattlin Bone - Little Gina Swamp Beat Burlesque.
11 Don Morrison - Grand Junction Road.
12 Marshall Lawrence - House Call - Mean Momma Blues.
13 JJ Field - Blue no more - Blue no more.
14 Blue Eyes Cry - Sleepin' Alone - What's A Girl To Do.
15 Too Slim - Blue Heart - Make It Sound Happy.
16 The CD Woodbury Band - Monday Night! - These Blues Keep Me Right Here.
*pictured
Audio Stream Quality: MP3.
Bitrate:56kb/s. Sample Rate: 22050Hz. Channels: Stereo.

Thanks to the musicians, promoters and distributors
who have allowed us to present their music.
Subscribe to SA Roots& Blues
(It's FREE) and obtain your 'user name' and 'password' to the 'Subscribers' page and download the latest quality MP3 podcasts to your Player!
'Blues Time' comes your way once a month. It draws its play list from the genres of acoustic and electric blues. Each podcast highlights new and recent releases. Duration is about an hour.

'SA Roots and Blues' is a non profit organisation. Our aim is to promote roots and blues music to an ever increasing patronage.