Podcast 196.
Nov 2013's PODCAST SPECIAL

This podcast presents selected tracks from
some of the albums submitted to the
2013 DERRINGERS MUSIC ROOTS & BLUES AWARDS
for the Best BLUES album and the best ROOTS album
released by South Australian musicians over 2012-13.


Nov 2013's PODCAST SPECIAL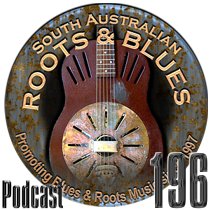 Press Play
Podcast 196 from SA Roots and Blues
1 Cal Williams Jr - Little Black Crow - Lay on the cold ground.
2 Brendon Manser - Below the moan - Abel and the bad one
3 Jimmy Marin - Something True - Blues for you.
4 Andy and Marta - Open Sea - Angels need.
5 JJ Fields - Blue no more - Blue no more.
6 Mick Kidd - Rehab and Camel - Complete Unknown.
7 Jump Daddy's - Bluesprint - Big Daddy's Coming Home.
8 Lazy Eye - Move Me - Voodoo Blues.
9 Max Savage & False Idols - Max Savage & False Idols - It Ain't Easy.
10 The Hushes - Sunlight and Fire - Black Betty.
11 Don Morrison - Don Morrison - Five Men in a Car.
12 Zkye - Just the Way It Goes - Someone I Used to Know.
13 Brillig - I Ain't Ever Gonna See the Sea - I Ain't Ever Gonna See the Sea.
14 Jay Hoad - Home Is Where the Heart Is - Home Is Where the Heart Is.
15 Lily and The Drum - Nobody Just Like Me - Nobody's Fool.
Audio Stream Quality: MP3.
Bitrate:56kb/s. Sample Rate: 22050Hz. Channels: Stereo.

Thanks to the musicians, promoters and distributors
who have allowed us to present their music.
Subscribe to SA Roots& Blues
(It's FREE) and obtain your 'user name' and 'password' to the 'Subscribers' page and download the latest quality MP3 podcasts to your Player!
'Blues Time' comes your way once a month. It draws its play list from the genres of acoustic and electric blues. Each podcast highlights new and recent releases. Duration is about an hour.

'SA Roots and Blues' is a non profit organisation. Our aim is to promote roots and blues music to an ever increasing patronage.