Podcast 197.
Dec 2013's Blues Time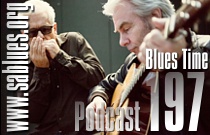 featuring Nick Charles and Doc Span
Dec 2013's BLUES TIME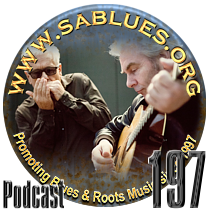 Press Play
Podcast 197 from SA Roots and Blues
1 Nick Charles and Doc Span* - All about Sonny Terry and Brownie McGhee - Walk On.
2 Brother Dege - How to kill a horse - The Black Sea.
3 Steve Howell & The Mighty Men - Yes, I Believe I Will - I Know You Rider.
4 Deb Ryder - Might Just Get Lucky - These Hands.
5 Too Slim - Blue Heart - Angels Are Back.
6 Phil Gates - Phil Gates Live at the Hermosa Saloon - Summer in the City.
7 Jim Allchin - Q.E.D. - Come on Home.
8 Becky Barksdale - The 2120 Sessions - Rollin' And Tumblin'.
9 Dan Bubien - Empty Roads - Empty Roads.
10 Dan Mckinnon - As Sharp as Possible - Killing Time.
11 Sharon Jones and The Dap Kings - Give people what they want – Retreat.
12 Brass Transit - Hand Me Down Jack.
13 Janet Ryan - Tired of Talking.
14 Avi Katz - Ground level portraits - Fighting Kind.
15 Nikki Hill - This is Nikki Hill - Gotta find my baby.
16 Chris James and Patrick Rynn - Barrelhouse Stomp - Bobby's Rock.
17 Jim Allchin - Q.E.D. - Chime Blues.
*pictured
Audio Stream Quality: MP3.
Bitrate:56kb/s. Sample Rate: 22050Hz. Channels: Stereo.

Thanks to the musicians, promoters and distributors
who have allowed us to present their music.
Subscribe to SA Roots& Blues
(It's FREE) and obtain your 'user name' and 'password' to the 'Subscribers' page and download the latest quality MP3 podcasts to your Player!
'Blues Time' comes your way once a month. It draws its play list from the genres of acoustic and electric blues. Each podcast highlights new and recent releases. Duration is about an hour.

'SA Roots and Blues' is a non profit organisation. Our aim is to promote roots and blues music to an ever increasing patronage.