Podcast 200.
Jan 2014's Roots and Blues Hour
Featuring: Holly Williams
The Roots and Blues Hour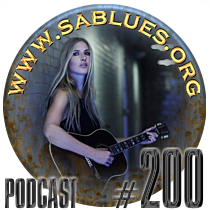 Press Play
Podcast 200 from SA Roots and Blues
ARTIST | ALBUM | TRACK
1 Holly Williams* - The Highway - The Highway.
2 Hard Working Americans - Hard Working Americans - Down To The Well.
3 Gregory Hoskins and Gary Craig - The Map of Above The Map of Below - Providence Line.
4 Chris Eckman - Harney County - Katy Cruel.
5 Blackie and The Rodeo Kings - South - Fleur De Lys.
6 Fred Eaglesmith - Tambourine - Can't dance.
7 Drive By Truckers - English Oceans - When He's Gone.
8 John Fogerty – Wrote a song for everyone - Mystic Highway.
9 Garland Jeffreys - Garland Jeffreys - Calcutta Monsoon.
10 John Moreland - In The Throes - Nobody Gives a Damn About Songs Anymore.
11 Dave Van Ronk - Inside Llewyn Davis Soundtrack - Green Green Rocky Road.
12 Linda Thompson - Won't be long now - As Fast As My Feet.
13 Lost Ragas - Phantom Ride - Johanna.
14 Guerilla Zingari - Odes for the Reckless - Back to the River
15 Reed Wiley - No Coward's Game - Rest Of The Way.
16 Maggie Rose - Cut To Impress - Preacher's Daughter Radio Cut
17 Holly Williams - The Highway - Waiting on June.
18 Market Farmers - Market Farmers - Hey Skippy.
*pictured

Audio Stream Quality: MP3.
Bitrate:56kb/s. Sample Rate: 22050Hz. Channels: Stereo.

Thanks to the musicians, promoters and distributors
who have allowed us to present their music.
Subscribe to SA Roots& Blues
(It's FREE) and obtain your 'user name' and 'password' to the 'Subscribers' page and download the latest quality MP3 podcasts to your Player!
'The Roots and Blues Hour'
Once a month Jerome Douvendahns presents a rich mature selection from the genres of roots, alt. country, blues, folk and indie alt. rock. Each podcast highlights new and recent releases from these genres. Podcast duration is about an hour.