Podcast 203.
March 2014's Blues Time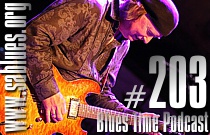 featuring Savoy Brown.
March 2014's BLUES TIME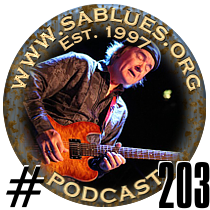 Press Play
Podcast 203 from SA Roots and Blues
1 Robben Ford - A Day in Nashville - Green Grass, Rainwater.
2 Joe Louis Walker – Hornet's Nest - As The Sun Goes Down.
3 Sunday Wilde - He Digs Me - He Digs Me.
4 Oklahoma Johnny Blue - No Separation - It works if we work it.
5 Kim Simmonds* Savoy Brown - Goin' to The Delta - Laura Lee.
6 Jamie Williams & The Roots Collective - Good Time - Blues Man.
7 Andrea Schroeder - Where the wild oceans end - The Spider.
8 Les Blouzayeurs - Blues De La! - Que Le Rose Nous Grise.
9 Adrianna Marie and her Goovecutters - Double Crossing Blues - I Ain't in the Mood.
Blues Hall of Fame Inductees:
10 Tampa Red - It's Tight Like That. (Vocalion 1928).
11 Kokomo Arnold - Milk Cow Blues (Decca 1934).
12 Robert Petway - Catfish Blues (Bluebird 1941).
The ABC of Blues:
13 Alvin Youngblood Hart - Big Mama's Door - Pony Blues.
14 Boo Boo Davis - Drew, Mississippi - Tell me what to do.
15 Charles Caldwell - Remember Me - Hadn't I Been Good to You.
16 Blu Acid - Single - Here I go.
*pictured
Audio Stream Quality: MP3.
Bitrate:56kb/s. Sample Rate: 22050Hz. Channels: Stereo.

Thanks to the musicians, promoters and distributors
who have allowed us to present their music.
Subscribe to SA Roots& Blues
(It's FREE) and obtain your 'user name' and 'password' to the 'Subscribers' page and download the latest quality MP3 podcasts to your Player!
'Blues Time' comes your way once a month. It draws its play list from the genres of acoustic and electric blues. Each podcast highlights new and recent releases. Duration is about an hour.

'SA Roots and Blues' is a non profit organisation. Our aim is to promote roots and blues music to an ever increasing patronage.