Podcast 204.
April 2014's Roots and Blues Hour
Featuring: The Audreys
The Roots and Blues Hour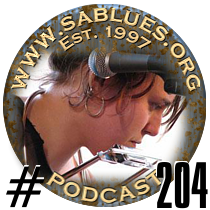 Press Play
Podcast 204 from SA Roots and Blues
ARTIST | ALBUM | TRACK
1 Ed Kuepper - The Return of The Mail Order Bridegroom - Hey Joe.
2 The Audreys - 'Til My Tears Roll Away - Roll Away.
3 Jen Cloher - Dyson Stringer Cloher 2013 Tour EP - Save Me From What I Want.
4 Liz Stringer* - Warm in the Darkness – Glutton.
5 Charles Jenkins and The Zhivagos - Too much water in the boat - 7 Creeks.
6 Andrea Schroeder - Where the wild oceans end - Dead Man's Eyes.
7 Debbie Bond and the Trudats - That Thing Called Love - Still Missing You.
8 Carlene Carter - Carter Girl - Little Black Train.
9 Holly Golightly - All Her Fault - Don't Shed Your Light.
10 Eileen Rose - Be Many Gone - Space You Needed.
11 Lee Roy Parnell - Back To The Wall - Breaking The Chain.
12 Lindsay Lou and the Flatbellys - Here Between - The Fix.
13 Ane Brun - Rarities - Ain't No Cure for Love.
14 Lydia Loveless - Somewhere Else - Hurts So Bad.
15 Shook Twins - What We Do - Thoughts All In.
16 Ed Kuepper - The Return of The Mail-Order Bridegroom - Rue the Day.
*pictured

Audio Stream Quality: MP3.
Bitrate:56kb/s. Sample Rate: 22050Hz. Channels: Stereo.

Thanks to the musicians, promoters and distributors
who have allowed us to present their music.
Subscribe to SA Roots& Blues
(It's FREE) and obtain your 'user name' and 'password' to the 'Subscribers' page and download the latest quality MP3 podcasts to your Player!
'The Roots and Blues Hour'
Once a month Jerome Douvendahns presents a rich mature selection from the genres of roots, alt. country, blues, folk and indie alt. rock. Each podcast highlights new and recent releases from these genres. Podcast duration is about an hour.