Podcast 205.
April 2014's Blues Time
...it's the pre-doomsday edition!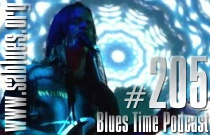 featuring Electric Sunkings.
April 2014's BLUES TIME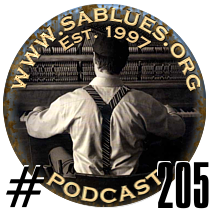 Press Play
Podcast 205 from SA Roots and Blues
1 King Gizzard and The Lizard Wizard - Oddments - It's Got Old.
2 Jack Bruce - Silver Rails - Keep it down.
3 The Holmes Brothers - Brotherhood – Drivin' In The Drivin' Rain.
4 Arthur Migliazza* - Laying It Down - I'm Ready.
5 Ray Fuller and the Bluesrockers - Live at Buddy Guy's Legends - Wild About You Baby.
6 Smokin Joe Kubek and Bnois King - My Heart's In Texas – Burnin' To The Ground live.
7 Professor Louie & The Crowmatix - Soul Blues – Someone.
8 Johnny Drummer - Bad Attitude - Star 69.
9 Jim Suhler - Panther Burn - Jump Up, Sister.
10 Johnny Cox - Thin Blue Line - All These Tears.
11 The Bluesmasters - The Bluesmasters Vol 3 – Suspicious.
12 Chas & Dave - That's What Happens - Lonnie D.
13 Trampled Under Foot - Wrong Side of the Blues - Bad Woman Blues
14 The Electric Sun Kings - Edge Of Time
15 David Honeyboy Edwards - Roll & Tumble Blues.
16 Eddie One String Jones - Rolling And Tumbling Blues.
17 Elmore James - It Hurts Me Too.
18 Freddy King - Texas Sensation - Look Ma, I'm cryin'.
*pictured
Audio Stream Quality: MP3.
Bitrate:56kb/s. Sample Rate: 22050Hz. Channels: Stereo.

Thanks to the musicians, promoters and distributors
who have allowed us to present their music.
Subscribe to SA Roots& Blues
(It's FREE) and obtain your 'user name' and 'password' to the 'Subscribers' page and download the latest quality MP3 podcasts to your Player!
'Blues Time' comes your way once a month. It draws its play list from the genres of acoustic and electric blues. Each podcast highlights new and recent releases. Duration is about an hour.

'SA Roots and Blues' is a non profit organisation. Our aim is to promote roots and blues music to an ever increasing patronage.