Podcast 207.
May 2014's Blues Time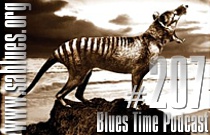 featuring Russell Morris' Van Dieman's Land.
May 2014's BLUES TIME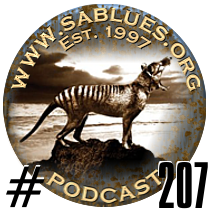 Press Play
Podcast 207 from SA Roots and Blues
1 Russell Morris - Van Diemen's Land - Van Diemen's Land.
2 Roaul and The Big Time - Hollywood Blvd - Why (Am I Treated So Bad).
3 Southside Johnny - Music from the barn - Just Like Tom Thumbs Blues.
4 Eli Cook - Primitive Son - Wont Be As Long.
5 Jess Klein - Learning Faith - Only The Blues.
6 Duncan Street - Baptized by the Blues - Tater Salad Woman.
7 Lee Palmer - 60 Clicks - Fighting The Blues.
8 Chicago Blues All Stars - Red Hot & Blue - Everythings Gonna Be Alright.
9 Ronstadt Generations - Epilogue - Come On In My Kitchen.
10 Smokin Joe Kubek and Bnois King - My Hearts In Texas - I Saw It Coming
11 The Holmes Brothers - Brotherhood - My Word Is My Bond.
12 Ed Kuepper - The Return of The Mail-Ordser Bride - Cypress Grove Blues.
13 Kenny Wayne Shepherd Band – Goin' Home - Cut You Loose.
14 Garfield Akers - Cottonfield Blues Pt2.
15 Georgia Pine Boy - One More Greasing.
16 Henry Thomas - Bull Doze Blues.
17 Howlin' Wolf - Smokestack Lightnin'.
18 Ishmon Bracey - Brown Mama Blues.
19 The Bluesmasters - The Bluesmasters Volume 3 - Colorado Boogie.
Audio Stream Quality: MP3.
Bitrate:56kb/s. Sample Rate: 22050Hz. Channels: Stereo.

Thanks to the musicians, promoters and distributors
who have allowed us to present their music.
Subscribe to SA Roots& Blues
(It's FREE) and obtain your 'user name' and 'password' to the 'Subscribers' page and download the latest quality MP3 podcasts to your Player!
'Blues Time' comes your way once a month. It draws its play list from the genres of acoustic and electric blues. Each podcast highlights new and recent releases. Duration is about an hour.

'SA Roots and Blues' is a non profit organisation. Our aim is to promote roots and blues music to an ever increasing patronage.