Podcast 215.
August 2014's Blues Time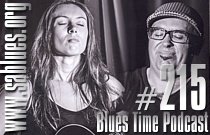 featuring Lazy Eye.
August 2014's BLUES TIME
Press Play
Podcast 215 from SA Roots and Blues
1 Lazy Eye* - House of Trouble - Black Hill.
2 Pork Chop Willie – Love is the Devil - Snake Drive.
3 Guy Forsyth Band - The Pleaser – Mechanic.
4 John Hiatt - Terms of Surrender - Baby's Gonna Kick.
5 Johnny Winter - Roots - Last Night.
6 Janiva Magness - Original - Twice As Strong.
7 Backsliders - Dark Side - Shocking Fact.
8 Black Sorrows - Certified Blue - Righteous Blues.
9 Mike Mattison - You Can't Fight Love - You Can't Fight Love.
10 Dixie Peach - Blues with Friends - Trouble with Love.
11 Duncan Street - Baptized by the Blues - Baptized by the Blues
12 Robert Cray - In My Soul - I guess I'll never know.
13 Terry Quiett Band - Taking Sides - Gimme Some.
14 The Bluesmasters - The Bluesmasters Volume 3 - Loving Man.
15 Debbie Bond and the Trudats - That Thing Called Love - That Thing Called Love.
16 Professor Louie & The Crowmatix - Soul Blues - A Few Hours.
17 Rowdy House - Hurricane Blues.
18 Blue Eyes Cry - Sleepin' Alone - Little Red Rooster.
*pictured
Audio Stream Quality: MP3.
Bitrate:56kb/s. Sample Rate: 22050Hz. Channels: Stereo.

Thanks to the musicians, promoters and distributors
who have allowed us to present their music.
Subscribe to SA Roots& Blues
(It's FREE) and obtain your 'user name' and 'password' to the 'Subscribers' page and download the latest quality MP3 podcasts to your Player!
'Blues Time' comes your way once a month. It draws its play list from the genres of acoustic and electric blues. Each podcast highlights new and recent releases. Duration is about an hour.

'SA Roots and Blues' is a non profit organisation. Our aim is to promote roots and blues music to an ever increasing patronage.