Podcast 217.
October 2014's Blues Time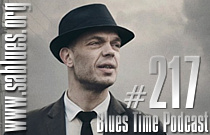 featuring Thorbjørn Risager and The Black Tornado.
October 2014's BLUES TIME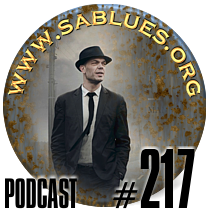 Press Play
Podcast 217 from SA Roots and Blues
1 Joe Bonamassa - Different Shades of Blue - Different Shades of Blue.
2 Thorbjørn Risager* and The Black Tornado - Too many Roads - If you wanna leave.
3 Dave Specter - Message in Blue - Got to Find a Way.
4 Doug Prescott Band - Karma and The Big Caboose - The Hard Line.
5 Robert Johnson Jr - Ain't No Man.
6 Vaneese Thomas - Blues For My Father - Southern Central Blues.
7 David West - Roadhouse Revelation - Stand Your Ground.
8 The Reverend Shawn Amos - Tells It - I'm The Face.
9 Susan Cattaneo - Haunted Heart - Worth The Whiskey.
10 Markey Blue - Hey Hey - Voodoo Do - Voodoo Do 1.
11 Erin Harpe and The Delta Swingers - Love Whip Blues - Delta Swing.
12 The Pat Sheridan Band - The Love Remains - That Train Don't Come Thro' Here No More.
13 The Halley Devestern Band - Fabbo Boffo Smasho - Code 9.
14 Too Slim - Anthology - Shaking a Cup.
15 Cotton Wells Bell Branch - Harp Attack - Down Home Blues.
16 Southpaw Steel 'n' Twang – Hale's Pleasure Railway - Open Field.
*pictured
Audio Stream Quality: MP3.
Bitrate:56kb/s. Sample Rate: 22050Hz. Channels: Stereo.

Thanks to the musicians, promoters and distributors
who have allowed us to present their music.
Subscribe to SA Roots& Blues
(It's FREE) and obtain your 'user name' and 'password' to the 'Subscribers' page and download the latest quality MP3 podcasts to your Player!
'Blues Time' comes your way once a month. It draws its play list from the genres of acoustic and electric blues. Each podcast highlights new and recent releases. Duration is about an hour.

'SA Roots and Blues' is a non profit organisation. Our aim is to promote roots and blues music to an ever increasing patronage.