Podcast 219.
November 2014's Blues Time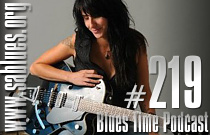 featuring Romi Mayes.
November 2014's BLUES TIME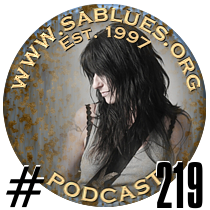 Press Play
Podcast 219 from www.sablues.org
1 Stacy Mitchhart - Live my Life - Come Together.
2 Drew Nelson - The Other Side - Seven Days.
3 Vaneese Thomas - Blues For My Father - The Old Man Down The Road.
4 Jean Louis Murat - Babel - Blues du cygnet.
5 Generation Blues Experience (feat. Jamie Powell ) - Private Angel – Crazy.
6 Royal Southern Brotherhood - Heartsoulblood – Trapped.
7 C W Stoneking - Gon' Boogaloo - How Long.
8 Thorbjorn Risager and The Black Tornado - Too Many Roads - High Rolling.
9 Hurricane Ruth - Born on the River - Born on the River.
10 Jeff Dale and the South Woodlawners - Good Music - Final Destination.
11 The Kirby Sewell Band - Girl with a New Tattoo - Carry Me Home.
12 Missy Andersen - In The Moment - Same things make you laugh will make you cry.
13 Georgie Bonds - Stepping Into Time - The Blacksmith.
14 Romi Mayes* - Lucky Tonight - Easy On You.
15 Buddy Guy and Junior Wells - Alone Acoustic - Rollin' And Tumblin'.
16 Lazy Eye - House of Trouble – Close.
*pictured
Audio Stream Quality: MP3.
Bitrate:56kb/s. Sample Rate: 22050Hz. Channels: Stereo.

Thanks to the musicians, promoters and distributors
who have allowed us to present their music.
Subscribe to SA Roots& Blues
(It's FREE) and obtain your 'user name' and 'password' to the 'Subscribers' page and download the latest quality MP3 podcasts to your Player!
'Blues Time' comes your way once a month. It draws its play list from the genres of acoustic and electric blues. Each podcast highlights new and recent releases. Duration is about an hour.

'SA Roots and Blues' is a non profit organisation. Our aim is to promote roots and blues music to an ever increasing patronage.