Podcast 220.
Nov. 2014's Roots and Blues Hour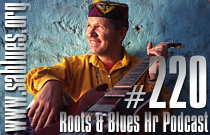 Featuring: Steve Tallis
The Roots and Blues Hour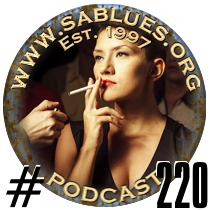 Press Play
Podcast 220 from www.sablues.org
ARTIST | ALBUM | TRACK
1 Savage Rose - Roots of Wasteland - The Joker.
2 Steve Hill - Solo Recordings Volume 2 - Tough Luck.
3 Mark Lanegan Band - Phantom Radio - Harvest Home.
4 Steve Tallis - The First Degree - Like Mercury.
5 Jon Dee Graham - Do Not Forget - A Place in the Shade.
6 Angaleena Presley - American Middle Class - American Middle Class.
7 Sallie Ford - Slap Back - Workin' the Job.
8 Billie* and The Kids - Jukebox Daddy – Scorched.
9 Little Big Town - Pain Killer - Quit Breaking Up With Me.
10 The Barr Brothers - Sleeping Operator - Love Ain't Enough.
11 Over The Rhine - Blood Oranges In The Snow - Blood Oranges In The Snow.
12 Devon Allman - Ragged and Dirty - Leavin'.
13 Jean-Louis Murat - Babel - Vallée des merveilles.
14 Maggie Bjorklund - Shaken - Dark side of the heart.
15 Liz Stringer - Live at The Yarra – Children.
*pictured

Audio Stream Quality: MP3.
Bitrate:56kb/s. Sample Rate: 22050Hz. Channels: Stereo.

Thanks to the musicians, promoters and distributors
who have allowed us to present their music.
Subscribe to SA Roots& Blues
(It's FREE) and obtain your 'user name' and 'password' to the 'Subscribers' page and download the latest quality MP3 podcasts to your Player!
'The Roots and Blues Hour'
Once a month Jerome Douvendahns presents a rich mature selection from the genres of roots, alt. country, blues, folk and indie alt. rock. Each podcast highlights new and recent releases from these genres. Podcast duration is about an hour.