Podcast 221.
December 2014's Blues Time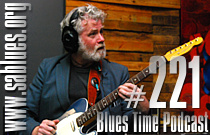 featuring Rhumboogie.
December 2014's BLUES TIME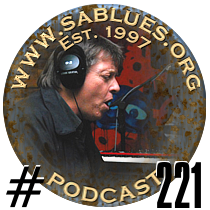 Podcast 221 from www.sablues.org
1 Rhumboogie* - Fandabidozi - Standing at the Crossroads Again.
2 Kyle Jester - After All This - You Tried to Ruin Me.
3 Steve Tallis - The First Degree - Speak of the Devil.
4 Stacy Mitchhart - Live my Life - Live My Life.
5 Steve Hill - Solo Recordings Volume 2 - Still Got It Bad.
6 The Kirby Sewell Band - Girl with a New Tattoo - Girl with a New Tattoo.
7 The Royal Southern Brotherhood - Heartsoulblood - World Blues.
8 The Hired Guns - Golden Home - Golden Home.
9 Jeff Dale and the South Woodlawners - Good Music – Murder.
10 Lisa Mann - Move On - Move On.
11 Sandy Saunders Band - Rattlesnake Road - No Free Lunch.
12 Jess Klein - Learning Faith - Learning Faith.
13 The MacKenzie Blues Band - Slam! Band! - Bone Cage.
14 Mississippi Heat - Warning Shot - Sweet Poison.
15 Marcia Ball - The Tattooed Lady and the Alligator Man.
16 Hurricane Ruth - Born On The River - Slow Burn.
17 Hat Fitz & Cara Robinson - Do Tell – Shakedown.
18 Buffalo Crows - Primitive Grind - Walk Through the Fire.
19 Otis Clay and Johnny Rawls - Soul Brothers - Road Dog.
20 Mick Kidd with Dave Blight - Winter Sun - Saw Pit Gulley Stomp.
*pictured
Audio Stream Quality: MP3.
Bitrate:56kb/s. Sample Rate: 22050Hz. Channels: Stereo.

Thanks to the musicians, promoters and distributors
who have allowed us to present their music.
Subscribe to SA Roots& Blues
(It's FREE) and obtain your 'user name' and 'password' to the 'Subscribers' page and download the latest quality MP3 podcasts to your Player!
'Blues Time' comes your way once a month. It draws its play list from the genres of acoustic and electric blues. Each podcast highlights new and recent releases. Duration is about an hour.

'SA Roots and Blues' is a non profit organisation. Our aim is to promote roots and blues music to an ever increasing patronage.