Podcast 224.
Jan. 2015's Roots and Blues Hour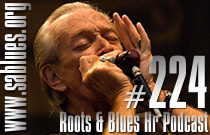 Featuring: Charlie Musselwhite
The Roots and Blues Hour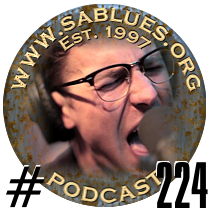 Podcast 224 from www.sablues.org
ARTIST | ALBUM | TRACK
1 Nick Waterhouse* - Holly - Holly.
2 Charlie Musselwhite - Juke Joint Chapel - Strange Land.
3 Chastity Brown - Long Way - Long Way.
4 Gurf Morlix - Eatin At Me - Born in Lackawanna.
5 Hurray For The Riff Raff - Small town Heroes - Blue Ridge Mountain.
6 Paul Kelly Presents - The Merri Soul Sessions - Sweet Guy.
7 The New Basement Tapes - Lost On The River - Spanish Mary.
8 Ryan Bingham - Fear and Saturday Night - Nobody Knows My Trouble.
9 The Bones of J.R. Jones - Dark was The Yearling - The Dark.
10 Wovenhand - Refactory Obdurate - The Refractory.
11 Charles Jenkins - The Past Is Never Where You Left It - Stephen Street.
12 Kim Churchill - Single Spark.
13 The Hired Guns - Golden Home - Sonny.
14 Murder By Death - Big Dark Love - Send Me Home.
*pictured

DOWNLOAD to your mobile media device.


Thanks to the musicians, promoters and distributors
who have allowed us to present their music.
Subscribe to SA Roots& Blues
(It's FREE) and obtain your 'user name' and 'password' to the 'Subscribers' page and download the latest quality MP3 podcasts to your Player!
'The Roots and Blues Hour'
Once a month Jerome Douvendahns presents a rich mature selection from the genres of roots, alt. country, blues, folk and indie alt. rock. Each podcast highlights new and recent releases from these genres. Podcast duration is about an hour.