The Roots and Blues Hour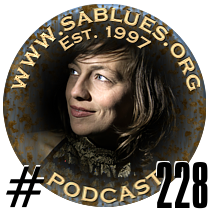 Podcast 228 from www.sablues.org
ARTIST | ALBUM | TRACK
1 Marlon Williams - Marlon Williams - Dark Child.
2 Amy Fairchild - Amy Fairchild - Hold Me Down.
3 Annie Keating - Make Believing - Know How to Fall.
4 Boz Scaggs - A Fool To Care - Whispering Pines (feat. Lucinda Williams).
Language warning with this track:
5 Cecile Doop Kingue - Anybody Listening Pt 1 Monologues - Make Me.
6 Lucie Thorne* - Everything Sings Tonight - The Rushing Dark.
7 Mark Knopfler - Tracker - Broken Bones.
8 Anders Osborne & North Mississippi Allstars - Freedom – Annabel.
9 Courtney Barnett – Depreston.
10 Dayna Kurtz - Rise and Fall - Raise The Last Glass.
11 Trevor Sewell - Independence - This Moments Gone.
12 Anna Mitchell - Down To The Bone - Fall Like That.
13 Janita - Haunted - Last Chance To Run And Hide.
14 Amy Fairchild - Amy Fairchild – Situation.
*pictured

Audio Stream Quality: MP3 CBR 44100Hz 320kbps.
DOWNLOAD
to your mobile media device.

Thanks to the musicians, promoters and distributors
who have allowed us to present their music.

Podcast 228.
March 2015's Roots and Blues Hour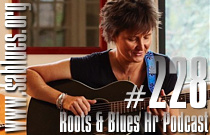 Featuring: Annie Keating from her latest album 'Make Believing'.
Subscribe to SA Roots& Blues
(It's FREE) and obtain your 'user name' and 'password' to the 'Subscribers' page and download the latest quality MP3 podcasts to your Player!
'The Roots and Blues Hour'
Once a month Jerome Douvendahns presents a rich mature selection from the genres of roots, alt. country, blues, folk and indie alt. rock. Each podcast highlights new and recent releases from these genres. Podcast duration is about an hour.