The Roots and Blues Hour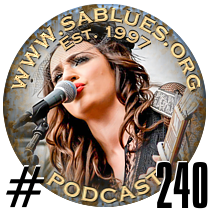 Podcast 240 from www.sablues.org
ARTIST | ALBUM | TRACK
1 Buzz Cason - Record Machine - Record Machine.
2 Ana Egge - Bright Shadow - Flat Top Guitar.
3 Chuck Mead - Free State Serenade - Evil Wind.
4 Dennis Elsworth - Romantic as It Gets - Mercy Doll.
5 Lindi Ortega* - Faded Gloryville - Ashes.
6 Lucero - All a man should do - Baby don't you want me.
7 Tracy Bonham - Wax and Gold - Luck.
8 The Delines - Scenic Sessions - Gold Dreaming.
9 Patty Griffin - Servant of Love - Hurt a Little While.
10 Minor Cabinet - Black Ink On White Sheets - Daybreaker.
11 Detonators - Monster in the Box - It Aint That Hard.
12 The Delta Saints - Bones - Dust.
13 The Deslondes - The Deslondes - Time To Believe In.
14 Tex Perkins & The Dark Horses - Tunnel at the End of the Light - Slide On By.
15 Don Morrison's Raging Thirst - Don Morrison's Raging Thirst - In Australia.
16 Roddy Gordon Band - Cest La Vie - Australia.
*pictured

Audio Stream Quality: MP3 CBR 44100Hz 320kbps.
DOWNLOAD
to your mobile media device.

Thanks to the musicians, promoters and distributors
who have allowed us to present their music.
Podcast 240.
September 2015's Roots and Blues Hour
Featuring: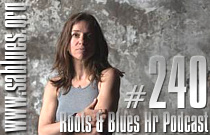 Anna Egge
Subscribe to SA Roots& Blues
(It's FREE) and obtain your 'user name' and 'password' to the 'Subscribers' page and download the latest quality MP3 podcasts to your Player!
'The Roots and Blues Hour'
Once a month Jerome Douvendahns presents a rich mature selection from the genres of roots, alt. country, blues, folk and indie alt. rock. Each podcast highlights new and recent releases from these genres. Podcast duration is about an hour.